Three new Priests for the Passionist Order
Catholic Communications, Sydney Archdiocese,
9 Jun 2016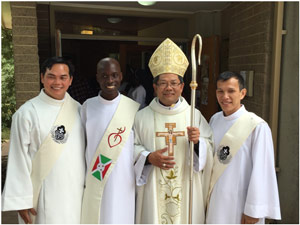 In June, the Passionists will be celebrating the priestly ordination of three of their men from Holy Spirit Province, a Province that incorporates their communities and ministries in Australia, New Zealand, Papua New Guinea and Vietnam.
The first of these Ordinations will be at St Brigid's Marrickville for Thomas Nguyen Nhu Thanh CP and Peter Hoang Chinh Truc CP from Vietnam. They will be ordained by Bishop Vincent Long Van Nguyen OFM Conv, Bishop Designate of Parramatta, at St Brigid's Marrickville at 10am on Saturday 11th June. Bishop Vincent ordained our three Deacons in Melbourne in November 2015.
Thanh and Truc are the first Passionist Priests to be ordained for our Passionist Mission in Vietnam, 10 years after the Passionists began a foundation in Ho Chi Minh City. They are part of a contingent of what is now 30 students, covering various stages of formation. They completed their studies leading to ordination in Ho Chi Minh City, and were previously novices at the International Novitiate in Adelaide.
Thanh was born in Dong Nai Province in 1978. He is the youngest of 10 children, and his parents were farmers. At the age of 10 he was sent to the parish priest for education, later attending the Open University, completing a Science degree and majoring in Biology. During these working years he volunteered in centres for handicap children, those who were orphans or had HIV+. This led him to the Passionists who had just started in Vietnam. Now at 37 years, he will be ordained a Passionist Priest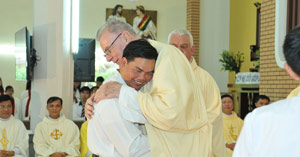 Truc was born in 1980 in Dak Lak Province of Central Vietnam. He is from a large farming family of 9 children. After high school he studied electrical engineering at university then worked in a ship building yard for 2 years. During this time he was discerning a vocation to religious life and encountered the three newly arrived Passionists. After finishing his studies at the Jesuit Seminary in 2015, he has been on parish placement as a deacon in Sai Gon. When asked about his Passionist Vocation he said: "What lead me to the Passionists was the Charism. It helps me to feel the "smell of the sheep" easily when I work with our people". Truc has also had extensive volunteer work with children with disabilities.
Thanh and Truc will return to Ho Chi Minh City soon after ordination to continue work in their parishes of Diaconal placement. They could also serve in Australia in the future.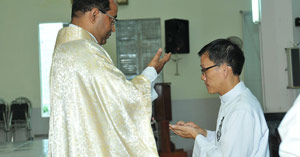 On 18th June Erick Niyiragira CP will be ordained a priest at St Francis Xavier's Cathedral in Adelaide by Archbishop Phillip Wilson. Erick was born in Burundi in 1988. At the age of 5 his mother and siblings escaped possible slaughter during the civil war by running out the back door of their house and crossing the river into Tanzania where they lived in a refugee camp for the next 10 years. After gaining migration to Australia they settled in Adelaide where Erick completed high school at Christian Brothers College. After coming to Australia they have since been reunited with his father. Erick knows first hand the life of a refugee in a camp, the struggles and the physical abuse. Since being ordained deacon in 2015, Erick has been on Diaconal placement at St Brigid's Marrickville, working across the Parish and School Campuses. In the recent Sydney half marathon he came 7th, and didn't start on the front line! He will return to St Brigid's for a Mass of Thanksgiving on 3rd July and parish ministry for the remainder of the year.
When asked about the significance of these three ordinations at this time, Fr Tom McDonough CP, the Provincial Superior said: "Our Passionist family are looking forward to the coming ordinations of our three brothers, Thanh, Truc and Erick. Each in their own way have overcome great challenges and shown tremendous courage to reach this point in their lives. More will be asked of them. Along with our pride and our gratitude, we will accompany them as they move into their priestly and Passionist ministry".