Vinnies CEO Sleepout Raises $5.8 Million for the Homeless
Catholic Communications, Sydney Archdiocese,
29 Jun 2016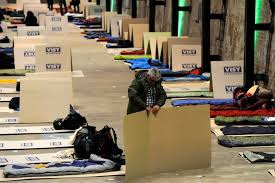 Last week in Sydney 350 CEOs and community leaders slept outside at Carriageworks as part of another successful Vinnies CEO Sleepout across Australia. The Sleepout returned to Carriageworks this year, the same location where it was held in 2012, 2013 and 2014. In other years, it has been held at Sydney's iconic Luna Park.
Three CEO Sleepouts were held in NSW: in Sydney $1,780,000 was donated by 10,000 people, in Newcastle 57 CEOs slept out and raised $107,000 and in Wollongong 32 leaders raised $138,000.
They were among 1500 CEOs nationally whom together raised close to $5.7 million but are still $800,000 short of the target.
Dianne Lucas, Acting CEO St Vincent de Paul Society NSW (and who was amongst the hundreds of CEOs who participated in the Sydney Sleepout), thanked everyone who generously supported the CEOs who slept out in the cold.
"The financial donations by the public will ensure Vinnies can continue to support the thousands of men, women and children who access our services on a daily basis," said Ms Lucas.
"We were fortunate that the Sleepout was held before the cold spell hit, but those who are forced to sleep rough will have felt the full impact of the weekend's low temperatures.
"People still have the opportunity to donate and we hope that over the coming days and weeks we will beat our national target of $6.5 million."

Many of the CEOs who participated for the first time have committed to coming again in 2017 - on Thursday 22 June.
In addition to raising much-needed funds, the Sleepout is an opportunity for key influencers across Australia to lend their voices to support the most vulnerable members of our community.
"We know that every year the participants will be reflecting on what they learnt first hand on Thursday night from those who are at risk of, or are experiencing, homelessness," said Ms Lucas.
"We hope that business leaders will make longer term commitments to reducing homelessness by partnering with Vinnies and by undertaking initiatives in their workplaces.
"After their exposure to the services and programs that Vinnies runs across the state, they are better equipped to take action in whatever industry or sector they come from to reduce homelessness and increase the stock of affordable housing."
Each quarter, donations from the 2015 CEO Sleepout contribute to crisis accommodation and specialised services for families and individuals who are experiencing homelessness. In Sydney, this equates to 1400 bed nights for homeless men and 55,500 meals at the Matthew Talbot Hostel (in addition to improved access to hepatitis health and HIV programs at the Matthew Talbot Primary Health Care Clinic), crisis accommodation for 300 people at Vincentian House and assisting 90 people with transition into stable accommodation, and crisis accommodation for 50 women and families escaping domestic violence at Our Lady of the Way.
The donations also boost early intervention and prevention services and programs, supporting over 12,000 people through case management and early intervention and prevention services and programs at Ozanam learning centre, the running of employment programs, English and literacy classes, moneywise and tenancy care workshops, self-management and recovery training, sporting and creative activities, men's and women's support groups, cooking classes, and computer skills classes for over 9,000 participants.