Xt3.com is Counting Down to Krakow!
Catholic Communications, Sydney Archdiocese,
30 Jun 2016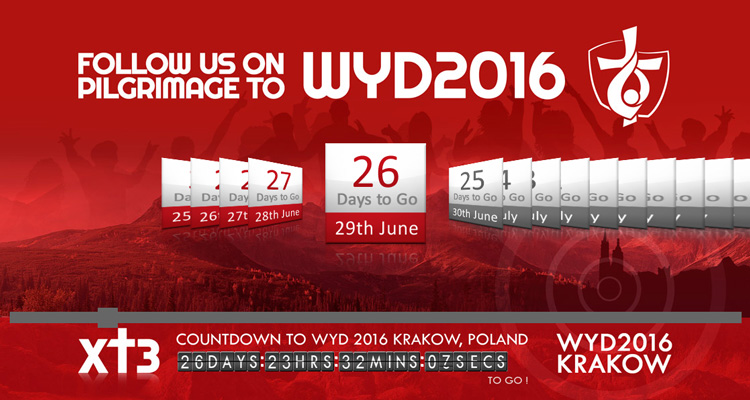 The Archdiocese of Sydney's social network site Xt3.com has launched an interactive countdown calendar to help pilgrims prepare for World Youth Day 2016 in Krakow, Poland.
This online calendar will feature daily reflections for World Youth Day pilgrims, as well as for those who cannot attend World Youth Day in Krakow, but would like to be part of the WYD experience online.
The calendar was launched on Saturday 25 June 2016, which marks 30 days to go until World Youth Day.
Over the past four years, Xt3.com has provided a series of online interactive calendars for young people during the Church seasons of Lent and Advent. These calendars have been popular resources for people all around the world, and have featured unique videos, podcasts and articles targeted towards Xt3's young, tech-savvy audience.
Now Xt3's World Youth Day countdown calendar will be providing even more multimedia content for a global audience preparing for World Youth Day. The calendar includes podcasts about the WYD Patron Saints, articles about getting around Poland, links to the WYD webcasts including the Australian Gathering in Krakow, the Opening and Final Mass and the Way of the Cross. Xt3's calendar is a one stop portal for pilgrims and youth leaders.
The calendar is also available in a mobile-friendly format and is accessible on all Smartphone and Tablet devices.
Access Xt3's WYD Countdown Calendar by visiting: www.xt3.com/wyd2016/countdown/