Catholics bring joy and healing to the Mind, Body, Spirit Festival
Catholic Communications, Sydney Archdiocese,
1 Jun 2016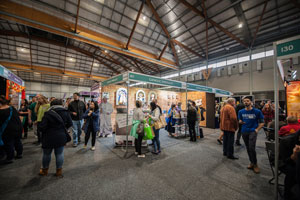 Directly opposite the Scientology stand, and positioned between the Psychic Reading Room and homemade, gluten-free fudge stall, "Catholic Spirituality" returned to the Mind, Body, Spirit Festival last week.
An initiative of the Archdiocese of Sydney's Catholic Renewal and Evangelisation Diocesan Office (CREDO), this is the third time there has been a Catholic presence at the festival.
Over four days, volunteers for the Catholic stand greeted 80,000 registered visitors to Australia's largest health, wellbeing and natural therapies event. Many expressed surprise to see Catholics amidst reflexology and massage, "superfoods" and organic teas, essential oils, meditation rooms, tarot readers, crystal healings and angel charts and commented that they had not thought about the "spiritual" aspect of religion. Volunteers were delighted to reply that Catholicism and spirituality are not inconsistent, and in fact they are united.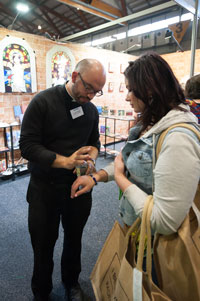 CREDO director Catherine Kennedy said after last year's festival that "the Catholic faith embraces far more than most people expect and involves the whole person - their mind, body and spirit."
Attendees attracted by the beautiful layout of the Catholic Spirituality stand with its icons, illuminated stained glass windows and life-sized cut out of Pope Francis were met with a warm welcome from volunteers, and a great selection of Catholic giveaways. Rosary beads, miraculous medals, prayer cards and Lighthouse Media CDs were popular, and children were delighted with a prayer to their Guardian Angel to take home. So popular were the Rosary beads that the team ran out three times over the course of four days, with volunteers scouring Sydney for replacements.
A number of Sydney Priests also gave up their time over the four days to speak with people, give blessings and hear confessions.
People from a variety of backgrounds and ages took the opportunity to speak with the priests or others at the stall. Volunteers commented that people really just wanted to be listened to; to have someone take the time to hear their story without trying to sell them a product.
The volunteers also said that they felt joy in having the opportunity to reassure people in their journey of faith.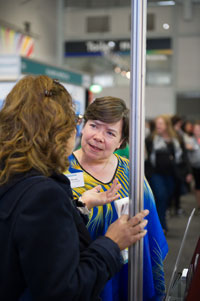 An example of this was a woman who, in the midst of conversation with one of the volunteers, said that she had not prayed in a long time. The woman went on to say that she has experienced much suffering in her life, but had always tried to bear it without complaint or retaliation. The volunteer beamed, telling the woman that bearing suffering was itself a prayer, and expressed confidence that her suffering had brought many graces and even miracles to herself and others in their lives.
Many visitors took the opportunity to write prayer petitions which would form part of the intentions of the Sister Disciples of the Divine Master for the next month.
Catholics and members of other faiths stopped to thank the volunteers for their presence, commenting that it was wonderful to see the presence of the Church in such a forum. There was also a great spirit of friendship amongst stallholders from several other stands representing various Christian groups, with volunteers taking the time to encourage one another, and pray with and for them.
The Catholic Spirituality stand is an example of the "new evangelisation" and an answer to Pope Francis' call to be a Church which seeks to encounter people where they are.