Differing paths but the one vocation
Catholic Communications, Sydney Archdiocese,
1 Jun 2016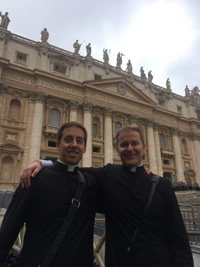 This Friday, 3 June, on the Solemnity of the Sacred Heart of Jesus, Archbishop Anthony Fisher OP will ordain two Priests for the Archdiocese of Sydney at St Mary's Cathedral.
The Mass will be concelebrated by Bishop Terence Brady, and many Priests from the Archdiocese of Sydney, other parts of Australia and overseas.
Despite very different backgrounds, the two found themselves together first in the Seminary of the Good Shepherd in Sydney and then studying at Rome's Pontifical North American College.
Deacon Daniele Russo grew up in Greenacre, and attended high school at Trinity Catholic College in Auburn, the same school which recently-ordained Father Lewi Barakat also attended. Inspired by the faith of friends and the initiative of his religion teacher to make the school chapel available in the afternoons, Deacon Daniele would gather with others to pray the Rosary after school. Learning more about the Catholic faith through the use of podcasts and the variety of talks available in Sydney parishes following World Youth Day, Deacon Daniele became passionate about the faith and a desire to share it with others quickly emerged.
He entered the Seminary of the Good Shepherd at the age of 19.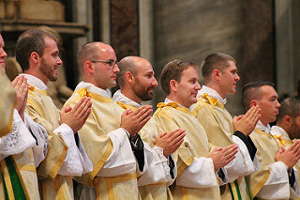 Deacon Joseph Hamilton hails from Ireland, and attended school in a rural part of that country. He studied a degree in actuarial science before pursuing a career in the finance industry, one which would see him travel the world and live and work in London for a prestigious investment banking firm before being transferred to Sydney.
Deacon Joseph entered the Seminary of the Good Shepherd not long after arriving in Sydney. Both he and Deacon Daniele were invited by then- Archbishop of Sydney, Cardinal George Pell, to complete their seminary studies in Rome at the Pontifical North American College.
Alongside their North American College classmates, the two were ordained to the Diaconate on the Feast of St Therese of Lisieux at St Peter's Basilica last year by Archbishop of New York, Cardinal Timothy Dolan.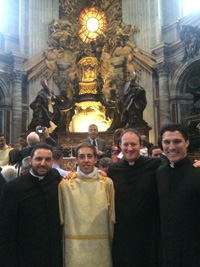 Deacon Daniele remained in Rome to continue his studies, while Deacon Joseph returned to Sydney and began his ordained ministry at St Michael's Parish, Lane Cove.
Their very dissimilar paths have led them the same point: a participation in the one Priesthood of Jesus Christ. Their Ordination during the same Mass is a reminder that God continues to call people from all walks of life to follow Him in the vocation of the Priesthood.
The Mass for the Ordination to the Priesthood will commence at 7pm on Friday, 3 June at St Mary's Cathedral, Sydney.