Catholic Schools, Partners in Australia's Future
Catholic Communications, Sydney Archdiocese,
16 Jun 2016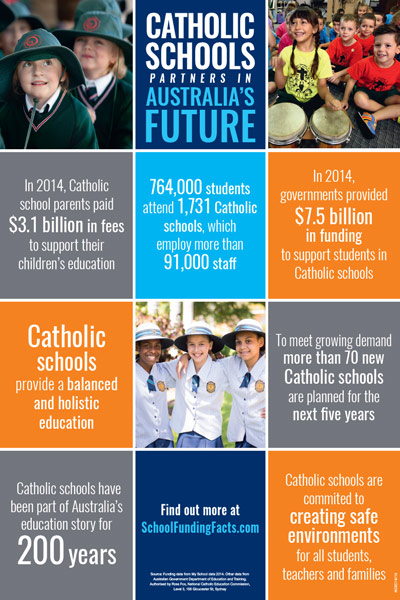 National Catholic Education Commission executive director Ross Fox says a new campaign in support of Catholic schools reflects the important place of the country's 1,731 schools in shaping Australia's future.
With a range of print and multimedia material created in conjunction with state and territory Catholic Education Commissions, Mr Fox said the "Partners in Australia's Future" campaign provides a great opportunity to share the message of the Catholic Church's work in education.
"With more than 765,000 students attending Catholic schools in every corner of Australia, hundreds of thousands of families have chosen an education that is inspired by the message of Jesus Christ, by the message of the Gospel," he explained.
"Parents are the first and primary educators of their children, and Catholic schools are partners with families and students in preparing and developing students for the various opportunities and challenges they will face in their lives."
Mr Fox said the "Partners in Australia's Future" message also refers to the partnership Catholic schools have with the Church, with other Australian schools, with the community and with governments.
"One in five children in Australian schools today attend a Catholic school, and they are all rightly supported in their education by government funding, alongside a significant contribution from parents through school fees," he explained.
"With the upcoming federal election, it is important that Catholic school parents understand that the Australian government provides significant financial support for their child's education. Without that support, the fees parents pay will rise. Government funding for Catholic schools keeps fees low.
"Over the past decade, the number of Indigenous students in Catholic schools has doubled. So has the number of students with disability. Catholic schools are welcoming and inclusive environments for families and students from all cultural, religious, ethnic and socioeconomic background, providing opportunities for all those who seek a Catholic education."
The "Partners in Australia's Future" material seeks to explain the reality of Australian Catholic education today, Mr Fox explained.
"Each Catholic school community is distinct and unique, but together, and in partnership with other school sectors, Catholic schools make a significant contribution to Australian society," he said.
The "Catholic Schools: Partners in Australia's Future" material can be accessed on the NCEC's website: http://bit.ly/NCECPiAF.
The video series can be viewed on the NCEC's YouTube channel: http://bit.ly/NCECYouTube
An opinion piece by Mr Fox on the need for government support of Catholic education can be found on the "Vox Fox" blog: http://www.voxfoxblog.com/apps/blog/show/44024710-catholic-education-s-growth-should-receive-government-support