Faith-Based Organisations Play a Vital Role in Emergencies
Catholic Communications, Sydney Archdiocese,
26 May 2016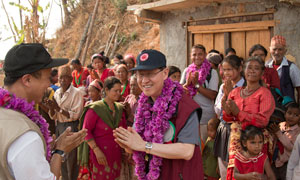 President of Caritas Internationalis Cardinal Luis Antonio Tagle spoke of the vital role faith-based organisations play in emergencies, when he addressed a Special Session on Religious Engagement at the World Humanitarian Summit held in Istanbul, Turkey this week.
Cardinal Tagle said engaging local and faith-based organisations can offer vulnerable people more effective and efficient help in emergencies.
More than 20 Caritas member organisations attended the summit including Caritas Australia, the Catholic Church's international aid and development agency.
Caritas Australia is part of Caritas Internationalis, one of the largest humanitarian networks in the world. The Caritas network has been advocating that the current approach to humanitarian response must be replaced by an investment in strengthening grassroots capacity, improving partnership and coordination.
Caritas Australia has also been involved in the summit's discussions along with Australian non-government organisations and the Department of Foreign Affairs and Trade.
"Local organisations, including parish-based Caritas and other faith-based organisations, often are the first to respond to emergencies," said Caritas Australia's Head of Emergencies, Melville Fernandez.
"With its grassroots network, Caritas is extremely well placed to offer a unique contribution in response to the needs of people and communities affected by conflicts and natural disasters, since its network extends from global, regional, national and local community levels."
Mr Fernandez said faith-based agencies, including Caritas, delivered the majority of humanitarian relief following the Nepal earthquakes more than a year ago.
Caritas Australia, as the Caritas member agency chosen by Caritas Nepal to play a lead coordination role among 18 Caritas agencies from around the world, has been very active in the response. This was made possible through funds raised from the Australian government and community.
The Caritas network and religious congregations and institutions have so far helped more than 1.2 million Nepali people with food, water, emergency shelter, education and sanitation.
"Growing inequality, climate change, water scarcity, urbanisation, conflict for resources and the spread of extremism will put millions in peril in the coming years. We need a humanitarian system able to address these growing needs," said Cardinal Tagle.