Benedict XVI Could Make Rare Public Appearance for Ordination Anniversary
Catholic Communications, Sydney Archdiocese,
24 May 2016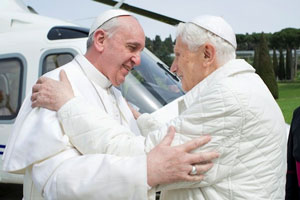 Pope Emeritus Benedict XVI will celebrate his 65th anniversary to the priesthood on 29 June and could make a rare public appearance.
The Prefect of the Pontifical Household and still private secretary to the retired Pope, Archbishop Georg Ganswein, said recently at the presentation of a book dedicated to Benedict XVI's pontificate that "there will be another occasion to see the Pope Emeritus in public."
"Benedict XVI will celebrate the 65th anniversary of priesthood on 29 June, and we will see what we will be able to manage ....this may present an opportunity to show that Benedict XVI is well."
Since stepping down from his pontificate three years ago, 89-year old Benedict XVI has appeared in public just half a dozen times.
This included the con-celebration of the canonisation Mass of John XXIII and John Paul II on 27 April, 2014, and he took part in Paul VI's beatification Mass on 19 October, 2015.
He was also the first pilgrim through the Holy Door after Pope Francis at the inauguration of the Jubilee Year of Mercy on 8 December last year.
However Pope Francis and Benedict have met privately on a number of occasions.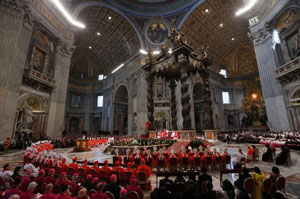 Benedict now lives in the Mater Ecclesiae monastery in the Vatican Gardens near St Peter's Basilica where he still enjoys a quiet stroll and until recently was still studying and writing although his health has become more fragile.
Joseph Ratzinger, who would become Pope Benedict XVI on 19 April 2005 following the death of Pope John Paul II and was inaugurated on 24 April 2005, was ordained a priest on 20 June 1951, in the Cathedral and St Mary and St Corbinian in Freising, Germany.
The Catholic Church celebrates the martyrdom of Peter and Paul on 29 June, patron saints of the city of Rome. On this feast, newly created metropolitan archbishops celebrate Mass with the Pope in St Peter's Basilica and receive the pallium, the primary symbol of their office.
It will be much closer to the date of this Mass before the Vatican will confirm if Benedict will be able to take part.