Pope Offers Prayers as Search for Crashed EgyptAir Plane Continues
Catholic Communications, Sydney Archdiocese,
23 May 2016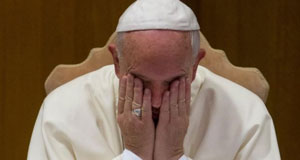 As the first memorial services took place this past weekend, Pope Francis has offered prayers and his condolences to families, friends and colleagues of the 66 passengers and crew who were on board EgyptAir Flight MS804 which crashed into the Mediterranean Sea last Thursday on a flight from Paris to Cairo.
"Having learned with sadness of the tragic crash of the Egyptian passenger airliner, Pope Francis wishes to assure you of his prayers and solidarity at this difficult time," the Vatican secretary of state Cardinal Pietro Parolin wrote to Egyptian president Abdel Fattah el-Sisi.
He added the Pope "commends the souls of the deceased of various nationalities to the mercy of the Almighty.
"Upon the relatives of the passengers and all those involved in the search and rescue efforts, His Holiness invokes the divine blessings of strength and peace."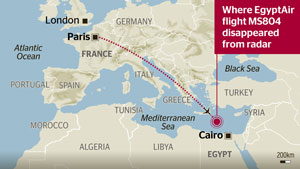 Meantime hundreds gathered in Cairo to pay their respects to and farewell nine Coptic Christians who had been on board the plane.
Relatives, still stunned by events, prayed as Bishop Daniel, the senior cleric who led the service, offered words of comfort on behalf of Pope Tawadros II, leader of the Coptic Church.
Some crash wreckage has been found of the plane including small sections of the plane, unused life jackets, personal belongings and body parts but international military units and rescue teams are still searching for the black boxes to determine the cause of the plane's sudden disappearance.
Investigators are trying to determine whether the plane was brought down by terrorism or a technical fault.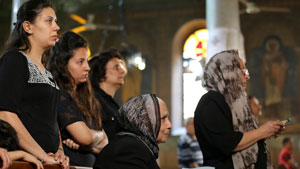 They are examining data including a series of warnings indicating smoke filled the cabin shortly before the Airbus 320 disappeared from radar.
Some plane crash experts and pilots have suggested an "internal explosion" tore through the right side of the aircraft.
French authorities have confirmed smoke detectors went off aboard the flight a few minutes before it crashed however it is not known what caused the smoke and possible explosion. This is why it is essential to find the black boxes which will reveal what was said in the cockpit when the plane suddenly made two sharp turns and spiralled downwards 25,000 feet before crashing into the sea.
Egyptian authorities have said terrorism is more likely than a technical fault, although no terrorist group has claimed responsibility for the act.