Sydney Women Come Together to Help Women Living in Poverty Globally
Catholic Communications, Sydney Archdiocese,
13 May 2016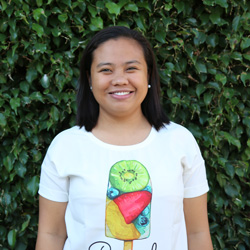 Around 300 women attended the third Women for the World fundraiser recently to help lift women above the poverty line, provide economic opportunities and reduce domestic violence.
The money raised will be distributed by Caritas Australia, the Catholic Church's agency for international aid and development, one of Australia's largest aid and development agencies.
Special guest at the fundraising lunch was 25-year old social worker from the Philippines, Psyche Mae Asencio.
Psyche Mae told the gathering the inspirational story of her family's transformation from slum to skilled work.
As a girl she grew up in a village that was a relocation site for squatter families in the Payatas, just outside Manila.
When her parents first came to the areas they had few skills, no paid work and little hope for the future.
Like many others, they were so poor, in order to survive they were forced to pick through rubbish from the nearby garbage dump.
Thanks to the support of Caritas Australia and its partner the Faithful Companions of Jesus (FCJ) which runs programs in the village, the lives of Psyche Mae and her family, much like hundreds of others have been transformed.
Programs focus on the social and economic opportunities in the most marginalised communities, empowering vulnerable women, children and men to make safe and sustainable choices about their livelihoods. Health clinics, savings and loans and computer training and opportunities, also pave the way for a positive future.
Today, Psyche Mae works with women in the Philippines who have experienced domestic violence.
"A lot of the income that people earn in the area is from recycling garbage from the dump. It's a very challenging environment to live in for families," said Kath Rosic, Caritas Australia's Head of South-East Asia programs.
"But thanks to fundraisers like Women for the World that help support Caritas programs, thousands of lives have been changed."
Through effective partnerships in humanitarian aid and development, Caritas Australia helps to end poverty, promote justice and uphold dignity in over 30 countries around the world in Asia, Africa, Latin America, Australia and the Pacific.
Caritas Australia's Senior Relationship Coordinator, Belinda Bourke says the aid agency is fortunate to have such a strong network of female supporters here.
"Women hold an important and influential role in the home and in the fabric of our society, yet 70 per cent of the world's poor are women," Mrs Bourke said.
"By bringing together those who are passionate about social justice and by utilising their networks, we can help fight poverty, promote justice and equality."
Watch the Women for the World film focusing on Psyche Mae at https://www.youtube.com/watch?v=5SylAmyKEyQ