Funeral Mass at Nursing Home for Bishop Mulkearns
Catholic Communications, Sydney Archdiocese,
8 Apr 2016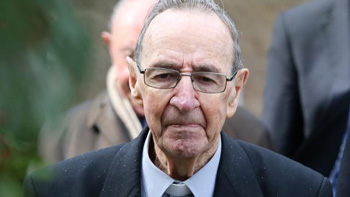 A private funeral mass will be held on Monday in the Nazareth House Nursing Home chapel in Ballarat for Bishop Ronald Mulkearns.
The former Victorian bishop died before completing his evidence to the child abuse Royal Commission about the Catholic Church's handling of pedophile priests during his 1971-1997 years in charge of the Ballarat diocese.
Bishop Mulkearns,85, died from cancer in the nursing home on Monday.
Current Ballarat Bishop Paul Bird said the small gathering would be for family and close friends and Bishop Mulkearns would not be be interred in the crypt of St Patrick's Cathedral, Ballarat where all former Ballarat bishops have been laid to rest.
The Royal Commission heard during his time as bishop, numerous pedophile priests, including Gerald Ridsdale, were moved across the region. The bishop gave evidence in February via videolink from the nursing home but said he could not remember much of what had taken place during his time although he acknowledged he had made some tragic mistakes during his time as bishop and expressed sorrow for these mistakes.
The decision for a small private funeral mass and the former bishop not to be buried in the Cathedral's crypt was welcomed by survivors who said the decision was obviously a considered response by the church.