Archbishop Anthony Fisher OP Welcomes Governor-General During His Recovery
Catholic Communications, Sydney Archdiocese,
18 Apr 2016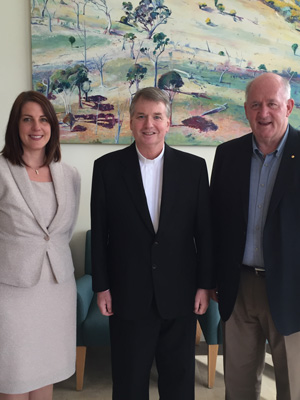 It has been nearly four months since the Archbishop of Sydney, Most Rev Anthony Fisher OP, was struck down with Guillain-Barré Syndrome.
The syndrome is the immune system damaging the peripheral nervous system and it left the Archbishop paralysed and in intensive care for many weeks and more recently undergoing intensive rehabilitation.
During Easter Archbishop Fisher attended the Chrism Mass with fellow priests of the Archdiocese and also celebrated Easter Sunday Mass and while taking in part in limited business meetings and talking with priests, he is still undergoing rehab at a specialist care centre in Sydney.
He has also had a number of visitors including an old friend, Governor-General Sir Peter Cosgrove.
The Governor-General dropped in at the Mt Wilga Rehabilitation Hospital on the weekend where he was met by the hospital's CEO, Lorrie Mohsen. Sir Peter spent some time with Archbishop Fisher and also met some of the other patients.
The Archbishop hopes to resume more duties before too long.