Notre Dame Confers Honorary Doctor of Laws on Professor John Haldane
Catholic Communications, Sydney Archdiocese,
15 Apr 2016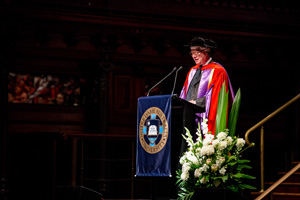 The University of Notre Dame Australia has conferred the Honorary Degree of Doctor of Laws honoris causa on Professor John Haldane at Sydney Campus Graduation Ceremony at the Sydney Town Hall on Tuesday 12 April 2016.
Professor John Haldane received his Honorary Doctorate alongside more than 800 undergraduate, postgraduate and higher degree students at the largest graduation in the history of the University.
He is a Distinguished Visiting Professor in Philosophy at Notre Dame, is one of the world's foremost thinkers and a significant public intellectual within the Catholic tradition. Professor Haldane is also Professor of Moral Philosophy in the University of St Andrews Scotland and J. Newton Rayzor Sr Distinguished Chair in Philosophy at Baylor University Texas.
Professor Haldane joins a small distinguished class of individuals including former Australian Prime Minister, The Honourable John Howard OM AC; Australia's Ambassador to the United States of America, The Honourable Kim Beazley AC; The Archbishop of Sydney, The Most Reverend Anthony Fisher OP; and eminent Australian poet, Leslie Murray AO, in receiving an Honorary Doctorate from Notre Dame.
"Professor Haldane is recognised by his peers as amongst the most distinguished philosophical voices in academic life today," Professor Celia Hammond, University Vice Chancellor, said in her citation.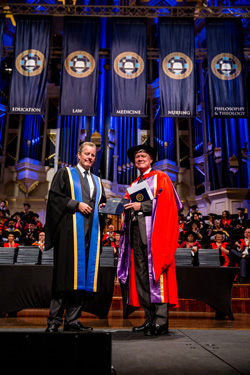 "He is also a significant public intellectual and social commentator with an international reputation for public engagement and media commentary. Professor Haldane is widely acknowledged as one of the most effective contributors to public debate from the perspective of Catholic intellectual tradition."
In conferring the award, Professor Hammond said: "Professor John Haldane presents with a most distinguished record of achievement in the discipline of philosophy within the international academic community; he contributes to public debate in a manner which frequently alters the terms of discussion, offering clarity and charity to emotionally charged topics; he serves loyally the Church and the Catholic intellectual tradition, including by his frequent visits and assistance to The University of Notre Dame Australia."
In his acceptance address, Professor Haldane commented on the growth of the university's Sydney campus in the ten years since its founding: "This is the tenth anniversary of the founding of the Sydney campus and in that short period it has grown in size and achievement to become a well-known and respected institution in this part of Australia," he said.
He also remarked on the key philosophy and theology focus at the university, saying that "while many subjects are taught and studied... there is an existential and academic core formed around philosophy and theology. This provides a common intellectual focus and is also a resource in the study of other subjects and more broadly in the vitally important business of living reflectively."
He concluded with an expression of gratitude for being made part of the Notre Dame family: "Thank you for the great honour you have done me in awarding me this degree and thereby for making me, in a further way, and on which I deeply appreciate and will cherish, a member of the Notre Dame family," Professor Haldane said in his acceptance address.