International Women's Day - Celebrating Women from the Missions to the Boardrooms
Catholic Communications, Sydney Archdiocese,
8 Mar 2016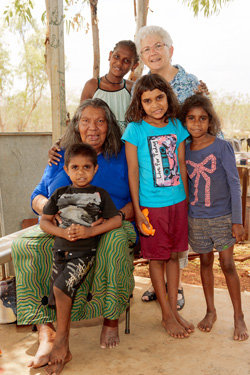 Today, 8 March, celebrates the social, economic, cultural and political contributions of women around the world - those whose faces are well known but also those whose contributions often go unnoticed by many except the people they help.
This year, Catholic Mission is celebrating missionary women who continue to have a profound impact on the lives of millions, both in Australia and overseas.
And the international mission agency of the Catholic Church in Australia is calling for all supporters to remember the immense contribution women make not only to the Church but to broader life. Women missionaries around the world who have dedicated their lives to helping others often in the most difficult circumstances.
Catholic Mission's National Director, Fr Brian Lucas, said: " Our organisation was founded by a lay missionary woman, Pauline Jaricot, and we have supported inspirational women ever since, from Other Teresa in Kolkata to, more recently, Sister Alma Cabassi in Broome."
Fr Lucas says that in every corner of the world, Catholic missionary women can be found working endlessly to promote faith, justice and the wellbeing of communities and those living within them.
"I invite you to join me in also praying for the missionary sisters and the laity around the world, who so selflessly serve their communities despite often very dangerous or uncomfortable conditions," he said.
Australian Catholic University also marked International Women's Day with a "Celebrate Women Who Make a Difference" breakfast at their North Sydney campus.
Hosted by Prof Anne Cummins, Deputy Vice-Chancellor (Students, Learning and Teaching) and Prof Marea Nicholson, Vice-Chancellor (NSW/ACT), guests speakers included Germ ma Rygate, Chief Executive Officer, The Centre for Volunteering; Melina Marchetta, Writer,Looking for Alibrandi and Pippa Hallas, Chief Executive Officer, Ella Bache.