The Royal Commission Week in Rome with Cardinal Pell
Catholic Communications, Sydney Archdiocese,
4 Mar 2016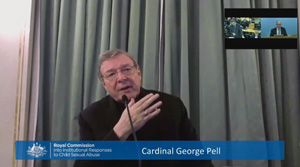 The Royal Commission into Institutional Responses to Child Sexual Abuse wrapped up its latest set of hearings this week, with four days of testimony from Cardinal George Pell, who appeared via video link from Rome's Quirinale Hotel. Survivors, support persons, media and others packed the Verdi Room between 10pm and 2am each night, with the final sitting lasting a marathon six hours and questions from 12 lawyers.
The first two days of questioning from Senior Counsel assisting the Royal Commission, Gail Furness SC, focussed on Cardinal Pell's time as a priest in Ballarat from 1971 to 1987. The focus was one of Australia's worst paedophiles, Gerald Ridsdale, and four Christian Brothers who were all in Ballarat East in the mid-1970s, something Cardinal Pell called a "disastrous coincidence."
On Wednesday, attention shifted the Archdiocese of Melbourne, and Cardinal Pell's time as auxiliary bishop under Archbishop Frank Little. The Cardinal had previously testified to the Commission about his time as Archbishop. Questioning focussed on Father Peter Searson, who was the subject of a number of serious complaints from staff, parents and students at Holy Family Parish, Doveton. In addition to physical and sexual assaults, Searson was reported to have shown students a dead body in a coffin, pointed a handgun at them and even held a knife to a girl's chest. In the final day of the hearing, it was revealed that after he became Archbishop of Melbourne, Cardinal Pell acted quickly to remove him, despite Searson's strenuous efforts to be given a second chance.
At the conclusion of the proceedings, Cardinal Pell briefly addressed the media gathered outside. He said he hoped his appearance had contributed a bit to healing and to improving the situation. Speaking of his connections to Ballarat, Cardinal Pell said: "I grieve for the suffering of the people whom I regard as my own people."
Later that morning, Cardinal Pell met with survivors who had travelled to Rome for his testimony. At their request, he again gave a statement to the media, committing himself to working with the group to make things better.
Summaries of each day of the Cardinal's testimony can be found here: