10 Years of Excellence in Education at Clancy College
Catholic Communications, Sydney Archdiocese,
4 Mar 2016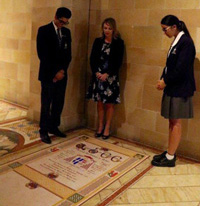 Clancy Catholic College is a Year 7-12 Catholic co-educational secondary school in Sydney's booming South-West and this year celebrated its ten-year anniversary since opening in 2006.
The celebrations began with a Mass at St Mary's Cathedral on Thursday where over 1400 students, staff, parents and special guests were in attendance. This included Auxiliary Bishop of Sydney Terry Brady, Dr Dan White, Executive Director of Catholic Schools for the Archdiocese of Sydney, founding College Principal Mr John Robinson and Br Kelvin Canavan, Executive Director Emeritus.
The Most Reverend Terence Brady led the celebration with priests associated with the Clancy Catholic College community. During his homily, Bishop Terry emphasised the themes of love and mercy, encouraging those gathered to remember how loved they are and also acknowledging the significance that the tenth anniversary of the school coincides with the Extraordinary Jubilee Year of Mercy called by Pope Francis. Bishop Terry urged the students to carry the beatitude of mercy with them throughout their lives.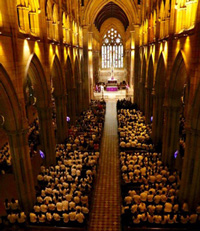 In her address, College Principal, Iris Nastasi looked back to the beginnings of the College and paid tribute to the visionaries who dreamt the various aspects of the school into being, including the chapel which is now the heart of the school, the crest linking the spirit of the school to Cardinal Clancy and all the items of the school identity from the uniform, the colours, the Houses, and even the Clancy socks.
"We give thanks to Cardinal Clancy for his emphasis on scripture, the good news, our story… and we give thanks for our motto,
To Love Like Christ
", said Mrs Nastasi.
"To Love Like Christ challenges us to be the face of Christ, the hands of Christ, to keep close the values of the heart, compassion, hope, mercy and of course the ultimate gift of faith."
In ten years, Clancy College has grown to be a school of 1134 students and 105 staff forming a vibrant school community embedded in Catholic values with a growing faith and prayer tradition.
Many remarked the music of the Mass was particularly moving, led by the College choir, CaSPA staff and musicians.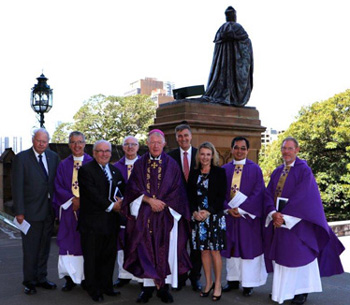 At the conclusion of the celebration the College Principal and College Captains, Rita Rabie and Renato Marando, visited the Crypt of St Mary's Cathedral to pray at the tomb of the late Cardinal Clancy, who passed away in the college's eighth year of operation on 3 August, 2014.
"The legacy of Cardinal Clancy remains a source of inspiration for the College community as they continue to love like Christ" explained Mrs Catherine Nolan, Religious Education Coordinator at the College.The College operates in "The Clancy Way" building relationships on the values of faith, hope, pride, respect and compassion where students are challenged to be active in the faith, turn their beliefs into good deeds and turn away prejudices, and the capacity to ignore and condemn. In this way, they can truly love like Christ.