Sisters of St Joseph Celebrate 150 Years of Service
Catholic Communications, Sydney Archdiocese,
24 Mar 2016

St Mary's Cathedral was filled on Saturday, 19th March for a special Mass to mark the 150th anniversary, or sesquicentenary, of the founding of the Sisters of St Joseph of the Sacred Heart in Penola, South Australia. It was one of many celebrations held in Australia and around the world to commemorate this significant milestone.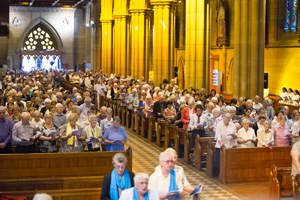 The theme of the sesquicentenary is "listening to the heartbeat of the world," a theme which resonates throughout the ministry of the Josephite order. The Sisters of St Joseph have, throughout their 150-year history, listened and responded to the heartbeat of the world in the spirit of their founder, St Mary of the Cross (Mackillop), who said that they should "never see a need without doing something about it."
It was on the Feast of St Joseph in 1866 that St Mary of the Cross began to live as a religious under the patronage of St Joseph. Within just 5 years, more than 120 women had taken vows and become Sisters of St Joseph. Since that time, the work of the Sisters of St Joseph of the Sacred Heart has spread to many places throughout Australia, New Zealand, Ireland, Scotland, Peru, Brazil and East Timor. The work of the Sisters also expanded over the years from primary education, to secondary education (including the "Motor Missions" which took religious instruction to state schools), tertiary education, nursing, midwifery, and providing assistance to refugees, asylum seekers and trafficked women.
Today, 835 Josephite Sisters still serve in Australia and around the world, as well as 4750 lay men and women who work as associates of the Josephites.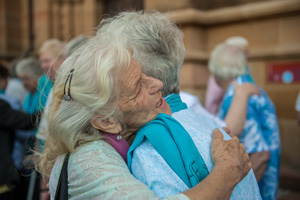 The Mass was celebrated by auxiliary Bishop Terry Brady and concelebrated by Bishop of Broken Bay, Bishop Peter Comensoli, and a number of priests from Sydney and beyond. The Mass was attended not only by hundreds of Josephite Sisters, but also those who have throughout the years who have benefitted from the ministry of the Sisters, particularly in the area of education.
The Sisters' Congregational Leader, Sister Monica Cavanagh, said of the anniversary: "We are delighted to be joined in celebration by people from Australia and beyond, especially those whose lives have been changed through the presence and ministry of the Sisters of St Joseph.
"This is a time to give thanks for the many blessings that have come our way and a time to look to the future with hope believing that the small seed of new life planted 150 years ago in Penola continues to make a difference for so many".
"Twenty-five years ago, we first kept up St Joseph's Day as the special Feast of our proposed Institute and little did either of us then dream of what was to spring from so small a beginning."
- Mary MacKillop, 25 March, 1891