Angel Voices Concert to Showcase St Mary's Cathedral Choir
Catholic Communications, Sydney Archdiocese,
24 Mar 2016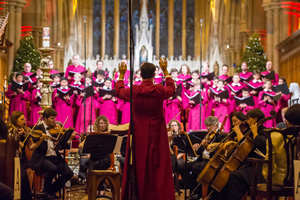 On Friday, 8 April, the St Mary's Cathedral Choir will present a special one-night only performance at the City Recital Hall in Angel Place.
With a program of music including works by Mozart, Handel, Vaughan Williams and others, St Mary's Cathedral Choir will combine its seraphic singing to the Angel Place concert hall acoustics, offering a musical experience which is guaranteed to soothe your soul and touch your heart.
Two renowned performers will join the choir for this special evening: soprano Amelia Farrugia, one of Australian opera's brightest stars; and virtuoso trumpeter Paul Goodchild.
Ms Farrugia has had a successful and varied Australian and international career in opera, musical theatre, symphony concert, recital, corporate events, large-scale outdoor events, recording, and television, while Mr Goodchild has long been acknowledged as one of Australia's leading trumpet players on the world stage, having considerable orchestral, chamber, and solo experience nationally and internationally.
Both have performed during Papal visits to Sydney.
The varied program includes music of exquisite harmony and exuberant joy, featuring Mozart's Coronation Mass and Exsultate jubilate; Handel's Hallelujah Chorus and Let the Bright Seraphim; and two of Vaughan Williams's Five Mystical Songs. Regular concertgoers and first-timers alike will find something to love in this performance of fine music by diverse musicians.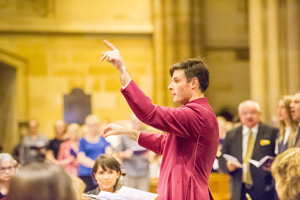 St Mary's Cathedral Choir is composed of boys and men in the English tradition of cathedral choirs. The boys are educated at the Cathedral's choir school, and the men of the choir are accomplished professional singers. The Choir is undoubtedly Australia's finest choir, singing at over 600 church services a year, as well as at numerous special engagements like this concert. Established in 1818, the Choir is the oldest musical institution in Australia.
Director of Music at St Mary's Cathedral, Thomas Wilson, told 2GB Radio's Alan Jones that at the concert, people will be able to hear all the clarity and detail of the work which goes on in the choir room but does not always come across the great distances of St Mary's Cathedral.
Angel Voices is your chance to hear this glorious music sung by a choir for whom it is their natural repertoire, in the crystal-clear acoustic of City Recital Hall.
Tickets can be obtained from www.cityrecitalhall.com.