Message from Archbishop Fisher for WYD 2016
Catholic Communications, Sydney Archdiocese,
23 Mar 2016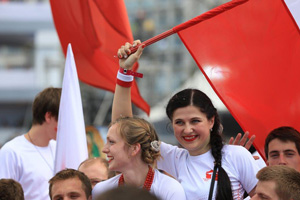 With the registrations for the World Youth Day in Poland closing in less than 4 weeks, Archbishop Anthony Fisher has issued a message encouraging the youth of the Archdiocese to consider embarking on the adventure of a WYD pilgrimage. The World Youth Days have been a formative initiative for the evangelisation of youth in the Church for the past two decades and thousands of young Australians have had an encounter of faith at a WYD. The message from Archbishop Fisher:
In the Archdiocese of Sydney we are preparing to send hundreds of young pilgrims to World Youth Day in Krakow, in July 2016. Young adults, school students, teachers, youth leaders and chaplains will join together to form a delegation from Sydney to be ambassadors from Australia, meeting with the Holy Father and the youth of the world in what promises to be an unforgettable faith experience.
In this special Jubilee Year of Mercy, I urge you to consider joining our pilgrimage to Krakow, the city of mercy, and the home of St John Paul II, the father of World Youth Days.
On the way to Krakow, you can choose to travel on a pilgrimage of faith to the Holy Land, you can walk in the footsteps of John Paul II throughout Poland, or you can visit some of the most beautiful Marian shrines in Europe. The Holy Father awaits us all in Krakow where we join with the youth of the world to celebrate the 31st International World Youth Day.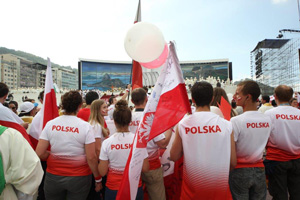 Afterwards, there will be a wonderful opportunity to come together on a post WYD retreat in the beautiful mountain country of Zakopane, where John Paul II once led his own retreats and camps with young people.
These great global gatherings of young people with the Holy Father are a sign that the Church is young, alive and ready to be a witness to the world of God's great love. WYD 2016 will invite us into the theme of mercy, an offer a unique opportunity to encounter the merciful heart of God for humanity.
I give my blessing to all those who travel on this pilgrimage to Poland, knowing that they embark upon an adventure with Christ in the company of friends for an experience of a lifetime.
Come and join the World Youth Day pilgrimage to Poland in 2016!
For more information about the Sydney WYD pilgrimages visit, www.catholicyouthservices.org or email wyd@catholicyouthservices.org.