UNDA Welcomes World-Renowned Philosopher Professor John Haldane
Catholic Communications, Sydney Archdiocese,
18 Mar 2016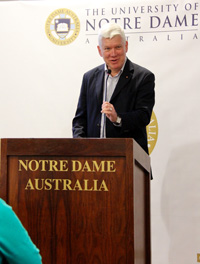 St Benedict's Hall was filled to capacity last night as renowned Catholic philosopher Professor John Haldane gave the first of three public lectures he will be delivering during his appointment as a Visiting Professor to The University of Notre Dame Australia (UNDA).
In an event hosted by UNDA's Institute for Ethics and Society (IES) and supported by the Order of Malta (NSW Branch), Professor Haldane spoke on the topic of Sex and Society, engaging those gathered with ideas on the cultural preoccupation with sex and the implications for Australian society.
Nothing was off limits in Professor Haldane's talk, with the premature sexualisation of children, polygamy and polyamory, "marriage equality", transgenderism and incest being amongst the topics discussed.
Speaking about modern society, Professor Haldane told the audience that we live in a "highly sexualised" culture.
"It's a society for which the notion of sex has displaced the notion of personal meaning. At an earlier age, people's attempt to situate themselves and find fulfilment in their lives was around notions of meaning or significance in life. For our culture, for our society, that has been displaced by the idea of sexual fulfilment," he said.
He also addressed the quality of modern debate and the impact of sentimentality on the way we discuss ideas.
He said that until relatively recently, parties to debates would say things like: "I disagree with you and here are my reasons." Noting the absence of reason in current debate, Professor Haldane observed: "Now what people say is: 'I find that very upsetting... or here's how I feel, or that's very offensive or I find that hurtful."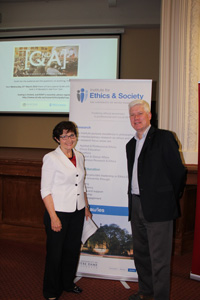 "People don't want to be confronted by arguments because they might upset them. If the conclusion runs counter to what they think, that's not something they're comfortable with," he continued.
Bringing the two together, Professor Haldane said that the dual phenomena of replacement of meaning with sexual fulfilment and the replacement of reason with sentiment assists in understanding the appeal of the current push for the redefinition of marriage.
Professor Haldane holds professorships at Universities in the UK and USA, codirects the Centre for Ethics, Philosophy and Public Affairs (University of St Andrews), he is a Research Fellow of the Center for Ethics and Culture at the University of Notre Dame, USA and is Chair of the Royal Institute of Philosophy, London.
He will be participating in the QndA event next week, fielding questions from a capacity audience about "Life, God and other small topics" with UNDA Chaplaincy Convenor and Officer for Engagement & Public Affairs, Institute for Ethics and Society Patrick Langrell taking the chair as moderator.
A second public lecture in Sydney will be held on Thursday, 12 May on the topic of "The Challenge of Barbarianism and how to deal with it." In that lecture, Professor Haldane will explore the rise in the third millennium of aggressive, militant ideological groups originating outside of the West, including jihadist terrorists such as those of ISIL/Daesh and suggest means of dealing with internal or external barbarism.
He will also deliver a lecture at UNDA's Fremantle campus.
For more information, see http://www.nd.edu.au/haldane