Scholarship for International Travel Awarded to Tamworth Teacher
Catholic Communications, Sydney Archdiocese,
18 Mar 2016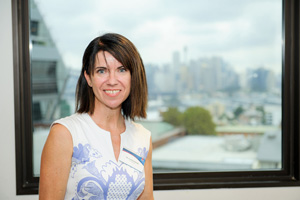 Tamworth teacher Lisa McSweeney has won the 10th Australian Catholic University (ACU) Frater Travel Scholarship.
Established by Dr Bob Frater AO and Mrs Margaret Frater DSG, the scholarship recognises and awards teachers within diocesan Catholic primary schools who display leadership qualities and commitment, and who will contribute to the continuing development and enhancement of the school system through participation in an international experience.
Dr and Mrs Frater presented the award to Lisa, who gained a Master of Religious Education from ACU in 2010, at an award ceremony in North Sydney on Monday. The ceremony also highlighted the work and achievements of past winners, including 2004 recipient Catherine McGuire, 2008 recipient Frances Taylor and 2010 recipient Amanda Lloyd who all attended the ceremony.
Amanda Lloyd presented the student vote of thanks and Vice-Chancellor Professor Greg Craven delivered the welcome. Deputy Vice-Chancellor (Students, Learning and Teaching) Professor Anne Cummins was the Master of Ceremonies.
Lisa, a teacher at St Nicholas in Tamworth, will use the money from the scholarship to attend the 13th International Centre for Innovation in Education Conference (ICIE) in Rijeka, Croatia.
She chose the conference in Croatia because she said the theme 'Creativity -Innovation- Latest Development in Research and Practices' complemented her own teaching and leadership philosophy.
"I can share innovative ideas with not only my immediate colleagues, students and families in her own school community but also with others in the Diocese," Lisa said.
She will create a blog to share with the school community so staff, students and parents may follow her journey.
A teacher with 26 years experience, she is Assistant Principal and Curriculum Coordinator, Religious Education at St Nicholas where she has taught for 18 years.
She has focused on intervention programs for students with troubled backgrounds or who face challenges for their mental health and wellbeing.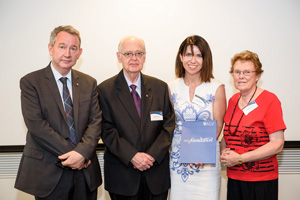 She established "Manners Matters", a whole-school approach to courtesy and respect" and St Nicholas's Lunch Club which supports the needs and interests of at-risk students.
"As long as children can feel safe within the four walls of the classroom for six hours a day, it's a starting point," Lisa said.
"The numbers of children suffering from depression and self harm are alarming and it is affecting children at younger and younger ages".
Dr Frater said, "It has been phenomenal to have been involved in this scholarship and to pass on to others what's come of our own experience. Going outside the country and seeing yourself and your work in a different context can make quite a difference. You can see the benefit that these 10 scholars have gained from their experience."
Professor Craven said the Fraters had provided a valuable opportunity for an ACU graduate to further develop their leadership potential while attending a conference or course overseas.
"Bob and Margaret Frater recognised that being able to travel early in their own careers gave them the confidence to innovate and take risks. These actions led to them enjoying successful and fulfilling careers," Professor Craven said.
"Margaret initiated the scholarship because she felt primary school teachers rarely had such experiences.
"Diocesan directors have stated that the Frater Scholarship has provided teachers with an enhanced perspective of curriculum, pedagogy and leadership, which has been valuable to their school communities.
"I would like to express our gratitude to the Fraters for their continuing generosity of funding to the scholarship."
On receiving the award, Lisa thanked the Fraters for the opportunity the prize offered.
"I feel very privileged and very humbled. I love learning as a teacher and I can't wait to get overseas and see what the rest of the world is doing in terms of innovation and creativity in classrooms and bring back some ideas for my crew in Tamworth."
Runner-up Madeleine Reddan so impressed the judges they gave her $1000 and encouraged her to apply again.