Catholics Urged to Buy Slavery-Free Chocolate This Easter
Catholic Communications, Sydney Archdiocese,
11 Mar 2016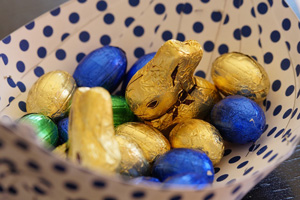 "Every person ought to have the awareness that purchasing is always a moral - and not simply an economic - act." Pope Francis.
Christine Carolan, the Executive Officer of Australian Catholic Religious Against Trafficking in Humans (ACRATH), one of the Slavery-Free Easter Chocolate Campaign members, said buying slavery-free chocolate at Easter gave people a chance to take a stand against human trafficking and slavery. Slavery-free chocolate is chocolate that is free from exploitative labour practices.
ACRATH is asking Australians, particularly in Catholic parishes and schools, in the lead up to Easter to consider what chocolate they buy and eat at Easter. Ms Carolan said many supermarkets in Australia are selling slavery-free chocolate this Easter.
ACRATH reports that much of the chocolate that finds its way into shops and homes in Australia is made from cocoa from plantations in the West Coast of Africa. Presently children as young as 12 years old are the ones picking those cocoa beans in order to make the chocolate eaten by Australians.
Some of these children are trafficked. Most of the children are forced to pick cocoa from an early age for minimal or no wages, for long hours, in dangerous work conditions, without any possibility of attending school.
The International Labor Rights Forum estimates there are 500,000 - 1,500,000 children working in the cocoa sector in West Africa. A global movement has begun to change this. The movement tackles poverty and empowers producers who are doing the right thing.
ACRATH say that it is easy to find slavery-free chocolate at Easter or anytime by looking for a label that shows the cocoa has been sourced ethically, and from farmers who engage in good labour practices.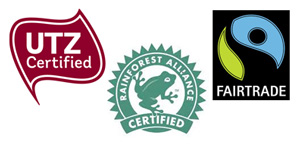 Slavery-free chocolate features one of these certification labels on the wrappers: Fairtrade, Rainforest Alliance and UTZ. This shows that the cocoa beans used in the chocolate's production have been sourced ethically from farmers who engage in good labour practices.
Many mainstream chocolate products are slavery-free, making the selection of ethically-sourced products at Easter simple.
Cadbury Dairy Milk blocks and bars made in Australia are Fairtrade
Mars Bars made in Australia are now Rainforest Alliance
Nestlé chocolate made in Australia and NZ is now UTZ certified
Aldi supermarkets have UTZ certified Easter chocolate
Haigh's Easter range of chocolates is UTZ certified
The purchase of slavery-free chocolate is always important but it takes on a special significance during this Extraordinary Jubilee Year of Mercy, when Catholics are encouraged to practice the works of mercy, including ransoming the captive.
In addition to buying slavery-free chocolate, ACRATH are also asking people to encourage supermarkets and others to stock slavery-free chocolate. They suggest writing to Woolworths and Coles to commit to double the number of certified products they stock for Easter in 2016 and 2017; ask David Jones and Myer to stock certified products in their stores and passing on positive feedback to Aldi and Haighs for their stocking of slavery-free chocolate.
For more information, you can download the Good Egg Easter guide here