Preparing for Ash Wednesday and the Start to Lent
Catholic Communications, Sydney Archdiocese,
5 Feb 2016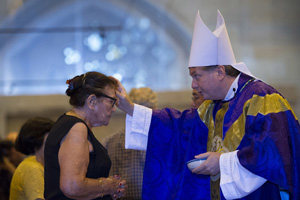 Catholics around the world will wear the mark of the cross on their foreheads this coming Wednesday, 10th of February as the beginning of Lent will begin.
Lent is a time of prayer, fasting and almsgiving and will this year focus on the theme of mercy - due to the Extraordinary Jubilee Year of Mercy called by Pope Francis.
Bishop Terry Brady will be celebrating Ash Wednesday Mass at 12pm at St Mary's Cathedral, as well as celebrating the 50th Anniversary of Caritas Australia and launching Project Compassion, Australia's annual Lenten fundraiser which brings thousands of Australians together in solidarity with the world's poor to help end poverty, promote justice and uphold dignity.
Ash Wednesday is an obligatory day of fasting and abstinence for Catholics. Palms from the previous Palm Sunday are burnt and the ashes are used to mark the foreheads of Catholics as the priest marks them with the sign of the cross reciting one of two phrases:
"Repent, and believe in the Gospel"
Or
"Remember that you are dust, and to dust you shall return"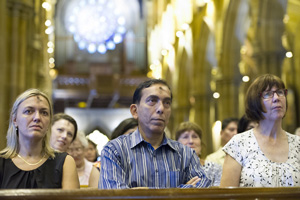 Fasting is obligatory for all who are over 18 years of age and under 60 years of age, it allows a person to eat one full meal and two smaller meals and abstaining from meat is obligatory for all who are 14 years and over.
Shrove Tuesday (also known fondly in Australia as Pancake Tuesday) is celebrated the day before Ash Wednesday and making and eating pancakes has become a wonderful tradition in many schools and families.
The Ash Wednesday Masses at St Mary's Cathedral will take place at:
06.45 am
12.00 pm
01.10 pm
05.30 pm
Watch this Feature film from Project Compassion showing the great difference that Caritas and Project Compassion make in Malawi in East Africa