Launch of Xt3 Lent Calendar App 2016 - Open Wide the Doors of Mercy this Lent!
Catholic Communications, Sydney Archdiocese,
3 Feb 2016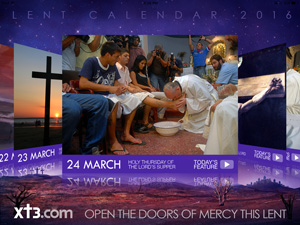 In this Jubilee Year of Mercy, Xt3.com, has released their annual Xt3 Lent Calendar App with the theme 'Open wide the Doors of Mercy'.
The Lent Calendar App is available to download now for FREE on your iPhone, iPad devices (download for Android devices will be available soon), with the first calendar reflection being opened next Wednesday, Ash Wednesday, 10 February 2016, the first day of Lent.
Xt3's Lent Calendar will provide daily inspiration through Gospel readings, podcasts, videos, and reflections. The Calendar suggests a different Lenten practice for you each day. Previous xt3 Lent Apps have been used as a resource by teachers and youth ministers around Australia but this year there is another incentive in this Year of Mercy.
Pope Francis in his message for Lent 2016, says he will "send out Missionaries of Mercy as a concrete sign to everyone of God's closeness and forgiveness." He says "the season of Lent in this Jubilee Year is a favourable time to overcome our existential alienation by listening to God's word and by practising the works of mercy."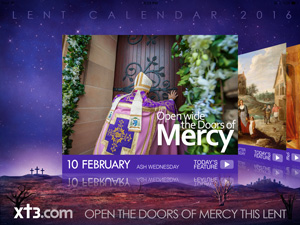 "A special feature of this year's Lent Calendar App is the Holy Year of Mercy podcast, which includes a series of reflections on the Corporal and Spiritual Works of Mercy by clergy, consecrated men and women and lay people from around Sydney," Laura Bradley the Xt3 Administrator and Content Manager said.
"We're very excited about this year's Lent App and believe it will be a terrific resource."
Other content includes a reflection on what the Year of Mercy means for the Church and how to obtain a plenary indulgence during this Jubilee Year.
In 2015, Xt3's Lent Calendar App was downloaded over 5000 times in the first week of Lent, and it is anticipated that the Jubilee Year of Mercy themed App will attract even more users in 2016, both in Australia and internationally.
The first feature will be available on Ash Wednesday, 10 February 2016, and on each day following, a new image and reflection will be revealed. The App will continue to run through Easter, until Divine Mercy Sunday.
The 2016 Lent calendar promotional video features Catholic Australian band, Emmanuel worship and their song "Above the Broken." The opening bible verse for the promo video is "Be Merciful as your heavenly Father is merciful" and comes from the Gospel of Luke, Chapter 6. This is followed by a slideshow of artwork and photographs all relating to the works of mercy which are included in the App.
To view Xt3's 2016 Lent Calendar, visit www.xt3.com/lent, or download the App by searching for "Xt3 Lent" in the Google Play or iTunes store.