ATAR Rank is Not the Only Pathway Into University
Catholic Communications, Sydney Archdiocese,
2 Feb 2016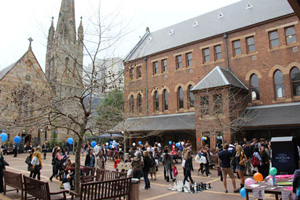 With university admissions processes and information sessions drawing to a close the debate on the suitability or otherwise of the ATAR rank as a selection means for university education is once again going another round.
The ATAR helps universities rank applicants for selection into their courses.
It is not a mark but indicates a student's position relative to all the students who started high school with them in Year 7.
However many students believe, or have been led to believe, that their ATAR will either open or close the door on their preferred university course - or university at all.
Not the case. So maybe it is time to shop around.
Since establishment, Notre Dame has independently adopted its own unique and personalised admissions model that utilises a matrix of factors to help the university assess the suitability of an applicant for study in any particular degree.
It is a question of looking at the ATAR plus a number of other key indicators where Notre Dame considers the whole person on an individual basis as part of the selection process.
At Notre Dame, prospective students apply directly to the University for admission. The University seeks to enrol students who wish to make a special contribution to society by using a comprehensive admissions process that goes beyond the use of a single score and uniquely features an interview for every qualifying applicant.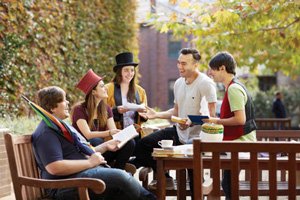 Entry to Notre Dame is based upon consideration of a number of factors. These include personal qualities, motivation to study and academic potential; contribution to school, Church or community life; academic record: (Year 11 and 12 results); an interview with a member of the academic staff, and a personal statement.
"Notre Dame has never selected students on an 'ATAR-only' basis; we've always asked for evidence of personal motivation, professional suitability, community contribution - and then tested all this at interview," Professor Hayden Ramsay, Notre Dame's Senior Deputy Vice Chancellor, Sydney Campus, said ahead of the university's Final Round Info Session next Tuesday from 6pm.
"Our admissions process drills down into HSC bands rather than accept the blunt instrument of an ATAR ranking. Our person-centred approach values individual potential and not comparative ranking. Together with our famed community-based education, superb graduate employability statistics and smaller class sizes, our admissions philosophy unearths the real facts about applicants' potential.
"After years of success, the Notre Dame approach is increasingly vindicated by media comment and sector expectation. Notre Dame is leading from the front with its unique whole-person selection model."
During the interview students also have the opportunity to ask questions concerning their chosen course, and the University as a whole. It is also about discussing their interest and motivation to study and the potential needs while at university. It is also an opportunity to talk about school performance, extracurricular activities, social family impacts, working and importantly course advice, counselling and alternate pathways.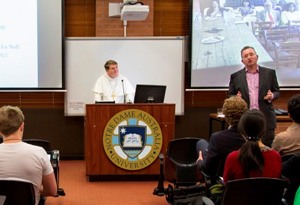 At the information evening next week, Notre Dame's unique admissions process allows prospective students to apply directly. This means students can complete the entire application to enrolment process on the evening (excluding Nursing) and leave with a university offer. They can receive their student ID card and be ready to attend Orientation Week commencing Monday 15 February 2016.
"Student advisors and academic staff will be on hand to assist prospective students with their course interests as well as provide advice on alternative pathways into studies at Notre Dame," Mrs Anne-Maree McCarthy, Manager, Admissions & Prospective Students Office, said.
The new Quality Indicators for Learning and Teaching (QILT) website, reveals that Notre Dame is in the top two universities nationally for 'Overall Quality of Educational Experience' (qilt.edu.au). The University also has the highest results in teaching quality, learner engagement and student support, as rated by current undergraduate students. The University is also the highest in the 'Graduate Employment Rate' category in Sydney with a full-time graduate employment rate of 82 per cent, well above the national average of 68 per cent.
So if the numbers don't necessarily stack up, it is not necessarily the end of your tertiary education before it starts.