Royal Commission Looks at Ballarat for the Third Time
Catholic Communications, Sydney Archdiocese,
26 Feb 2016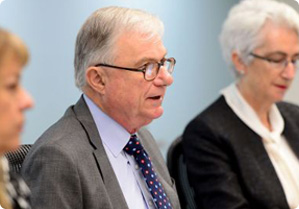 The Royal Commission commenced phase three of its hearings into Case Study 28 on Monday.
Case Study 28 is focussed on the response of the Diocese of Ballarat and the Christian Brothers operating within that diocese to allegations of child sexual abuse against clergy or religious.
The Commission is formally sitting in Sydney, but is being live-streamed at the Ballarat Town Hall and will be receiving the evidence of Cardinal George Pell via video link from Rome. Survivors, media and others will be present with the Cardinal at Rome's Hotel Quirinale during his testimony.
The hearings this week contained testimony from survivor witnesses Timothy Barlow, Martinus Claassen and CCD, as well as Brother Paul Nangle, the former headmaster of St Patrick's College, Ballarat and Brother Brian Brandon, former Provincial of the St Patrick's Province.
On Thursday, Bishop Ronald Mulkearns gave testimony via video link from a nursing home in Ballarat. Bishop Mulkearns was Bishop of Ballarat for a period of 26 years, and is suffering from terminal cancer. He used his testimony before the Commission to apologise for not handling the abuse crisis well, saying that he did not know what to do nor how to do it. On medical advice, Bishop Mulkearns' testimony was adjourned after 90 minutes and will resume at another time.
Dr Peter Evans, a former Franciscan priest and psychiatrist, gave evidence about the psychology of paedophilia.
The Commission adjourned after his evidence and will resume on Monday at the earlier time of 8am for the testimony of Cardinal George Pell, who will testify between 10pm and 2am Rome time.
Summaries for each day of this week's hearings are available below.