Fiji Cyclone Winston: Call for Help as Clear-Up Begins
Catholic Communications, Sydney Archdiocese,
25 Feb 2016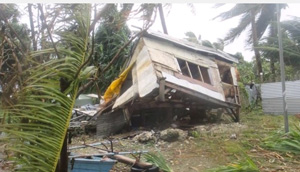 Residents of Fiji are struggling to emerge from the devastation of a category five cyclone that ravaged the island over the weekend.
The death toll from Cyclone Winston has risen to 44, with officials warning the clear-up could take months.
The cyclone left a trail of destruction in its wake and wreaked havoc in the Tongan islands of Vava'u and Ha'apai on as it moved towards Fiji. Caritas Tonga is responding with pre-positioned emergency supplies and continues to assess and respond to the needs of the community as it emerges.

About 8,500 people are still sheltering in evacuation centres.

Cyclone Winston has destroyed many buildings in parts of the main Viti Levu island and Koro islands, Fijian officials said.

The devastating storm brought winds of over 320km/h, torrential rain and waves of up to 12m. It has been described by the Fiji Broadcasting Corporation as the worst to ever hit the country.
The Catholic Church, supported by Caritas Oceania agencies including Caritas Australia, Caritas Aotearoa New Zealand and Catholic Mission are responding to the damage caused by Cyclone Winston, and calls for help come amid fears of a health crisis in the Pacific nation.
Catholic Mission, with its partner Australian Marist Solidarity, is funding a shelter in the capital Suva for families affected by Cyclone Winston, reported to be one of the most powerful ever recorded in the southern hemisphere.
Father Brian Lucas, National Director of Catholic Mission, says while the storm has passed, the most dangerous time may be yet to come. "In crises such as these, the storm itself is only part of the problem," he said. "It is the subsequent loss of power and infrastructure, as well as flooding and isolation, can lead to the significant spread of disease and famine."
Catholic Mission is liaising with the National Director of the Pontifical Mission Societies in Fiji, Sister Merieti Riiki, in an effort to assess the situation and provide support where it is most needed. "It is important at this difficult time that we work together, with agencies such as Caritas, in the best interests of our brothers and sisters in Fiji" explains Fr Lucas.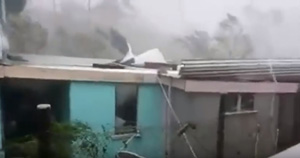 In Fiji, the Archdiocese of Suva through the Commission for Justice and Development is assessing the damage and planning a coordinated response. Shelter is a major priority and there are an estimated 750 evacuation centres around the country. The Caritas network, part of one of the largest humanitarian networks in the world, remains ready to respond in Fiji as needs become clearer.
"We do a lot of disaster preparedness work right across the Pacific. Preparing communities to be first-responders in emergencies is a fundamental part of our humanitarian work, and makes a significant difference when natural disasters hit," said Caritas Australia's Pacific Programs Manager, Stephanie Lalor.
Caritas Australia's partner Peoples Community Network (PCN) in Fiji, works in informal settlements where many of the poorest and most marginalised have been impacted. PCN are urgently assessing the damage but initial reports indicate these low-lying communities have been hit hard.
"Our thoughts and prayers are with all the communities, friends and partners in Fiji and the region where the tropical Cyclone Winston has made landfall. We remain in close contact with our partner organisations on the ground, ready to provide support where necessary," said Ms Lalor.
"Winston has left behind extensive damage to homes, public office, businesses, trees, crops, roads, electricity lines, telephones and bridges," said Iosefo Nainima, Archdiocese of Suva's Director for Justice and Development.
"Most of the villages along its path are completely destroyed with sea walls washed away. The most immediate needs would be tarpaulin, blankets, food, farming equipment and seedlings for vegetables," he said from Suva.
Caritas staff in Tonga are working in Vava'u and Ha'apai to monitor situation and assess damage and needs. In Fiji the Caritas network is prepared to respond as needed and the assessment of needs has now begun.
After responding to immediate needs following the cyclone, Caritas Australia is committed to accompanying Fiji and Tonga and other Pacific nations that remain vulnerable through the cyclone season.
"We are encouraging our supporters to raise funds for our current Project Compassion Lenten Appeal which helps vulnerable Pacific communities such as Tonga and Fiji respond to emergencies build back stronger and prepare for future disasters," said Ms Lalor.
Donate today to http://www.caritas.org.au/projectcompassion
Donate today to https://www.catholicmission.org.au/