Seminarian Visit to Archbishop Fisher a Great Encouragement
Catholic Communications, Sydney Archdiocese,
24 Feb 2016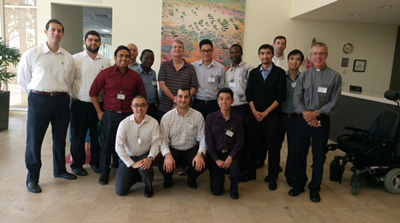 Archbishop Fisher was greatly heartened by the visit of 25 special visitors in the staff and seminarians of the Seminary of the Good Shepherd at Homebush. The seminarians reported being inspired by the Archbishop's good spirits over the two day visit that took place on 18-19 February.
Archbishop Fisher who is recovering from Guillain-Barre syndrome in rehabilitation received the first and third year seminarians and the fourth year and senior seminarians across two days due to the size of the group. The seminarians were accompanied by Seminary Rector Fr Danny Meagher, and Vice-Rector Fr Arthur Givney.
Fourth year seminarian Roberto Keryakos reported how uplifted he felt to see the Archbishop. "We were moved by how much he has suffered physically, yet we were very impressed with his spiritual health. He was not depressed, he was very eager, positive about his situation" he said.
"He feels that there is a purpose to his suffering. Somehow in God's providence this will affect something good in the Church, at least in the Sydney Archdiocese, perhaps our Archdiocese will be even more united than before."
The Archbishop explained to the seminarians his daily program of rehabilitation which includes physiotherapy, other appointments, going for walks and prayer.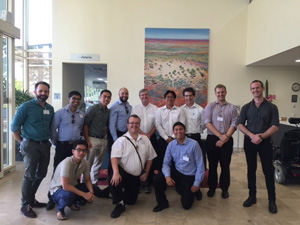 Roberto observed that it is no doubt a challenge for the Archbishop to be away from his ministry and to be away from his people, and yet he feels the closeness of the many prayers of support and encouragement that have come his way.
"He specifically mentioned how overwhelmed he was with support, cards, prayers from people from all corners of the diocese and the world, especially from his own seminarians and priests."
The seminarians were impressed with the Archbishop's eagerness to complete his rehabilitation and get back on his feet to serve the Church.
The mood of the visit was jovial with much joking and laughter reported Roberto.
The visits concluded with the seminarians and the Archbishop praying evening prayer together and the Archbishop giving them his blessing.
Following the visit the Archbishop posted on social media how encouraged he was by the visit.
"It was wonderful to be visited by staff and seminarians from the Seminary of the Good Shepherd in Homebush on Thursday and Friday of last week. It was a great joy to spend time with them and for us to have the opportunity to pray together" said the Archbishop.
"Please join me in praying for these men who will, God-willing, be the future priests of our Archdiocese."
You can leave a message of support for Archbishop Anthony here:
http://www.sydneycatholic.org/people/archbishop/support.asp