Martin Mazinga - Changing the Lives of Those in Malawi
Catholic Communications, Sydney Archdiocese,
19 Feb 2016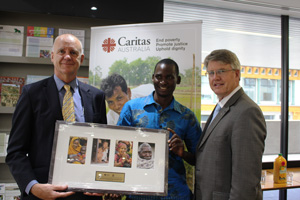 Martin Mazinga is a long way from home.
He is a national program co-ordinator with one of Caritas Australia's local partners in Malawi.
One of the world's least developed countries, Malawi is in south eastern Africa and is largely an agricultural country food security is a very big problem.
Martin is visiting Australia to support Project Compassion. He is visiting schools and parishes, hopefully changing the understanding of students and families here which could in turn change the lives of those in his home country.
On Ash Wednesday, Auxiliary Bishop, Most Rev Terence Brady presided over a mass at St. Mary's Cathedral at noon, where Martin , National Program Coordinator of the Catholic Development Commission in Malawi (CADECOM), gave a short talk.
In his role Martin explained how his role oversees Caritas Australia's initiatives under the Australian NGO Cooperation Program (ANCP), and the Australia Africa Community Engagement Scheme (AACES) supported by the Australian Government.
During his visits around Sydney he has been talking about the difference that Caritas is making with Project Compassion and highlighting his stories with examples from a number of villages.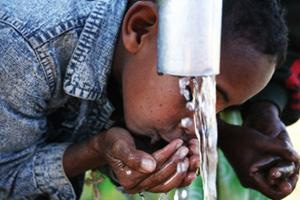 Martin and his team at CADECOM ensure that Caritas Australia's programs create meaningful and sustainable development opportunities for the most marginalised communities. With a focus on food and water security, Martin's work tackles inequality at its roots, empowering people to develop livelihoods, earn an income, to learn new skills and access education.
"CADECOM is helping the community use their local knowledge, the resources which are already available, to make sure they're able to produce more crops," Martin says and points out that some households used to be without food for up to six months at a time .Now the food gap has been reduced to almost zero. Building sustainable households that are food secure all throughout the year, including the rainy period, is one of the key focuses of the program in Malawi.
"Despite having more than 20% of the country's body covered by water, Malawi still has a huge problem with access to safe water especially in the rural communities where people walk long distances to access water," Martin says.
In response to this, CADECOM, with the support of Caritas Australia and the Australian Government, has constructed several bores so that communities may access water within a reasonable distance (500 metres).
"Thus far, 120 bores have been constructed, giving up to 64,000 people access to safe water. The construction of these bores have made a significant impact on communities, with signs of reduced cases of waterborne diseases and even reduced gender-based violence, as the reduced time and distance to travel for women means that they are less vulnerable to being abused on the road," he says.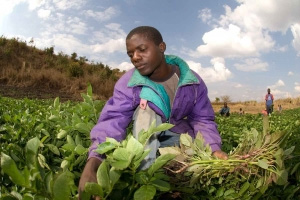 Martin began working with CADECOM in 2012. He brings a wealth of experience in project management, community engagement, capacity building and research from his roles at the Women's Legal Resources Centre, the University of Malawi, and the Catholic University of Malawi.
Along with Paul O'Callagan, Caritas Australia CEO, Martin met with the Chancellor of the Archdiocese of Sydney, Chris Meney, and other staff of the Archdiocese of Sydney before the launch of Project Compassion , explaining what had been achieved in Malawi and thanking the Archdiocese for their continued contribution over many years.
He spoke about many of the components of CADECOM's program including the 'Pass-On Scheme':
"The first beneficiaries, the first recipients of goats, pigs or chickens, are supposed to give the newborn animals, born from their livestock, to the next group. In that way, when each animal gives birth, we are sure that more people will own their livestock. Our hope is that by the end of the project, we'll find that almost everybody in that community owns livestock," he said.
Martin is passionate about working at the grassroots and seeing a holistic and integrated development program work in a community.
"What gives me hope is seeing the integration which we have witnessed through the Caritas-funded programs. For instance, one woman who came from a very poor background, to the extent that she didn't have an education, was able to enrol into adult literacy through participation in the program. Now she's able to read and write," he said.
"This woman was staying in a grass thatched house, but now she has a constructed house with a bed, which she didn't dream of having. She never dreamt she would own any livestock, and she bought a goat. Now she owns eight goats and twenty four chickens. She didn't think there was any hope of holding a leadership position in her life, but now she is one of the leaders in her community. She treaded a long distance to access water, but because of the program through Caritas Australia they drilled a bore hole in her community, she's now able to access water in a nearby place. So when I look at this woman from a village in northern Malawi, I see a woman who has benefited from all the aspects of the CADECOM program."
Through Caritas Australia's partnership with CADECOM, Martin will continue to work with more communities to harness their unique strengths, skills and natural resources and to realise their vision of a just and equal world.
Listen to the talk given by Martin here.
Watch an interview with Martin here.
More on Project Compassion and how you can contribute http://www.caritas.org.au/