Soon-to-be Catholics Welcomed at Rite of Election
Catholic Communications, Sydney Archdiocese,
19 Feb 2016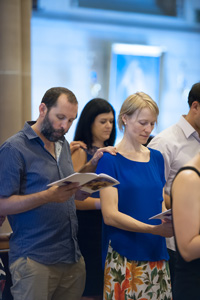 Auxiliary Bishop Terry Brady welcomed 228 catechumens and 49 candidates into the Church during the Rite of Election ceremony held at St Mary's Cathedral's Rite of Election on Sunday.
The Cathedral was filled as candidates were accompanied by godparents, sponsors, priests, parishioners, family and friends from parishes around Sydney and representatives of migrant communities within the Sydney Archdiocese.
A great joy for the Archdiocese of Sydney is that the number of those entering the Church at Easter continues to show a steady increase. 204 catechumens were baptised last year, along with 70 candidates received into full communion with the Church. Notably, many of those who take part in the RCIA program (the Rite of Christian Initiation of Adults) are young men and women in their 20s and 30s.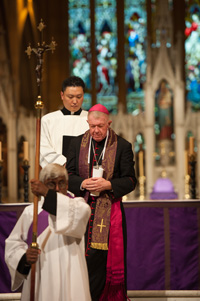 During Sunday's Rite of Election, the catechumens were formally called to the Sacraments of Initiation into the Church, with the Church stating its intention to baptise the catechumens at the Easter vigil. It marked the end of their "Catechumenate" period and the beginning of the period of Purification and Enlightenment, a period of intense spiritual preparation for the reception of the Sacraments. This new period is marked by special rites celebrated at a parish level during the Lenten season, which are prayers specifically offered for the Elect to assist in strengthening them in these final days.
The Baptism and reception of new Catholics is a time for celebration for the individuals concerned, their families and the Church as a whole, and so we are all invited to join our soon-to-be Catholics in prayer over the final days of preparation. It is also a time for the Church to offer grateful prayers for priests, catechists, those involved in the Catechumenate Office and the RCIA programs and others involved in formation of those seeking to enter the Church.
To find out more about embracing the Catholic faith or converting from another Christian denomination, contact the Archdiocese of Sydney's Catechumenate Office by phoning 02 93905951 or go to www.rcia.org.au