Vocation Weekend with the Capuchins - 40 Hours for Vocations - 24 Hours for the Lord
Catholic Communications, Sydney Archdiocese,
19 Feb 2016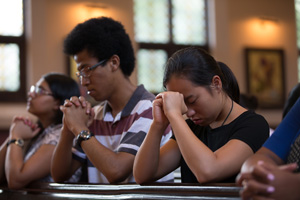 There are three wonderful events coming up in the Archdiocese of Sydney that provide opportunities to go deeper in prayer with the Lord this Lent.
On the weekend of the 26th-28th February the Seminary of the Good Shepherd will open their doors to everyone in the Archdiocese dedicating 40 Hours of prayer for Vocations. People can sign up to spend an hour or two in front of the Blessed Sacrament with Mass, Confession, communal prayer, personal prayer, and guided reflections.
On the same weekend the Capuchin Franciscan Friars will also hold a Vocational Discernment Weekend for young men (18-35).
The talk topics will be Keys to Discernment; Decision Making and Commitment; Capuchin Life and Spirituality; the Vows, the Priesthood and Consecrated Life; the Call to Mercy and the Capuchin Vocation.
Vocations director of the Capuchins, Fr Thomas McFadden explains that he met the Capuchins for the first time because of an evening similar to this weekend.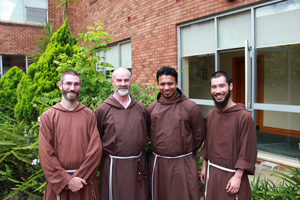 "I saw an evening advertised and I had been discerning the priesthood and religious life. What got me over the line was that the advertisement said 'no strings attached'., It's the same case here, it's a weekend to give guys the chance to better discern the Lord's call in their life, and an opportunity to come to know something of the Capuchin way of life and see if this may be for them.
Also coinciding with the Capuchins weekend is 40 Hours for Vocations which is now in its fifth year.
"It is really important for all members of the church to pray for vocations. We should be specific in our prayer and ask God to send holy young men to be priests for the Archdiocese, after all Jesus says 'Ask and it will be given to you; seek and you will find,' explains Lorena Portocarrero who works in the Vocations Centre for the Archdiocese of Sydney.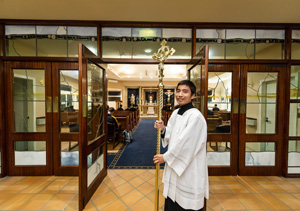 40 hours for vocations is not just for those discerning priesthood it is an opportunity to pray for marriage, religious life or to decide one's own vocation. In previous years, over 1000 people came to pray before the Blessed Sacrament over the 40 hours.
On the following weekend of the 4-5th of March CREDO will host 24 Hours for the Lord at St Mary's Cathedral. This event is in response to Pope Francis' invitation to join the universal Church in opening their doors for 24 hours of Eucharistic Adoration, prayer and the Sacrament of Reconciliation. The theme of 24 Hours for the Lord is "Merciful like the Father" (Luke 6:36).
Director of CREDO, Cathy Kennedy explains that this is an evangelisation event and is an opportunity to bring a friend to this gentle time of prayer and encounter Christ's love and mercy.

24 Hours for the Lord
https://www.facebook.com/events/955589824510626/
40 Hours for Vocations
https://www.facebook.com/events/1553347014979363/
Vocational Discernment Weekend for young men with the Capuchins
http://www.xt3.com/event/view.php?id=3573&day=28&month=2&year=2016