Catholic Bishop of Australian Defence Force Cleared
Catholic Communications, Sydney Archdiocese,
16 Feb 2016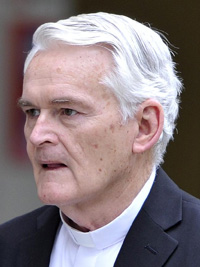 The Bishop of the Catholic Diocese of the Australian Defence Force, Bishop Max Davis, has been found not guilty of all charges and accusations relating to indecent dealings with five students more than 40 years ago.
A jury found Bishop Davis not guilty of six counts of indecent dealings with male children between 1969 and 1972 when he was dormitory master at St Benedict's College in New Norcia, north east of Perth.
When Bishop Davis, 70 was charged two years ago, he stood aside from his duties as Catholic Bishop of the Australian Defence Force.
He has always maintained his innocence.
During the trial one former student said he was abused by a "Brother Max".
In his testimony Bishop Davis said he had been told by a group of students that another clergy member was behaving inappropriately towards boys. He reported this immediately to the Abbot, who was in charge, and that person was removed from the school that day.
He also told the court he was never referred to as "Brother" because he was not a member of any order.
During the trial counsel for the defence said there was "no dispute" the complainants had been sexually abused at the college but Bishop Davis was not responsible.
Bishop Davis will now take some time to decide whether to return to public ministry.
A statement from the Catholic Diocese of the Australian Defence Force said, " The Catholic Diocese of the ADF strongly encourages any victim of abuse by clergy or staff within the Catholic Church, or any other agency or person, to report the matter to police and to seek assistance through the dedicated legal and support services."