Notre Dame Welcomes One of the World's Leading Thinkers in Catholic Tradition - Professor John Haldane
Catholic Communications, Sydney Archdiocese,
12 Feb 2016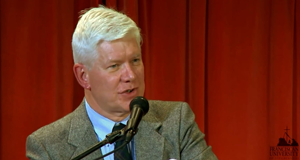 One of the world's foremost thinkers and a significant public intellectual within Catholic tradition, Professor John Haldane, has been appointed to a Visiting Professorship at The University of Notre Dame Australia within the School of Philosophy & Theology, for 2016.
The Associate Dean, School of Philosophy & Theology, Dr Angus Brook, said the School was privileged to have Professor Haldane in residence.
He will teach a 13 week unit entitled The Good Society, its Nature and Foundations.
However during his time here Professor Haldane will also present a series of free public lectures, to be held in St Benedict's Hall, on the Sydney Campus at Broadway.
The Associate Dean, School of Philosophy & Theology at Notre Dame ,Dr Angus Brook said Professor John Haldane was one of the world's leading philosophers with research interests and extensive publications in the areas of Philosophy of Mind, Philosophy of Value, Philosophy of Religion, Metaphysics, and Medieval Philosophy.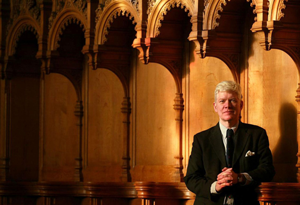 Professor Haldane is currently the J. Newton Rayzor Distinguished Chair in Philosophy at Baylor University, USA. He is also Professor of Moral Philosophy and co-director of the Centre for Ethics, Philosophy and Public Affairs in the University of St Andrews, Scotland; Visiting Professor in the Centre for Character and Virtues in the University of Birmingham, England; Permanent Research Fellow of the Centre for Ethics and Culture, University of Notre Dame, USA, and Chair of the Royal Institute of Philosophy, London.
HIs career began with his education in Scotland, and at the University of the Arts London where he took a BA degree in Fine Art, and at the University of London where he gained a PGCE in Education and a BA and a PhD in Philosophy. While in London he taught art for three years and was a visiting lecturer in the Architecture School of the University of Westminster, before taking up a position in the University of St Andrews in 1983.
As Professor of Moral Philosophy at St Andrews University he directed its Centre for Ethics, Philosophy and Public Affairs for 25 years.
Professor Haldane has published 200 academic papers, and is co-author of 'Atheism and Theism' in Blackwell's Tomorrow's Classics list, and author of An Intelligent Person's Guide to Religion (2003), Faithful Reason (2006) Practical Philosophy (2009), and Reasonable Faith (2010). He also has collections intended for general readers: Seeking Meaning and Making Sense (2008), The Church and the World (2008) and Arts and Minds (in preparation). He has also edited many books and is founding and general editor of St Andrews Studies in Philosophy and Public Affairs.
In addition to academic work, Professor Haldane also writes for papers and periodicals and appears on radio and television.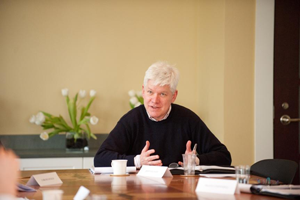 The 13 week unit Prof Haldane is teaching explores the broad understanding of the nature and range of moral and political values, principles and ideals that until relatively recently were shared by Western societies and those influenced by them. This understanding was rooted in a synthesis of philosophical and religious ideas deriving from Greek philosophy and Roman law and from Jewish and Christian scripture. By stages, however, this common understanding has been eroded in part by challenges to it and in part by changes in the circumstances of life arising from industrialisation, urbanisation and commercial and technological changes. Today we are confronted by a dizzying scene in which change is accelerated, difference accentuated and traditional forms of life are assailed, ridiculed or eroded.
The course will explore the different kinds of response to this situation: embracing relativism; attempting to identify one or two common values; retreating into remnant communities, and reviving older traditions. This course of lectures will also explore the movement away from a common philosophical and religious consensus, examine the current situation, and consider these different responses to the challenges facing contemporary societies. It will discuss the ideas of ancient, modern and contemporary thinkers and consider what it is reasonable to hope for in the way of a substantial philosophy of personal and social morality.
The course will run from Tuesday 23 February to Tuesday 24 May from5.30pm to 8.30pm.
Prof Haldane will also give a public lecture on Thursday 17 March from 6pm titled Sex and Society and on Thursday 12 May from 6pm titled Causation and the Order of the Universe.
He will also be the special guest speaker at the University's QndA discussion forum on Wednesday 23 March from 7pm.

For further information http://www.nd.edu.au/haldane or PDF