Introducing the 2016 Sydney Archdiocese NET Team
Catholic Communications, Sydney Archdiocese,
12 Feb 2016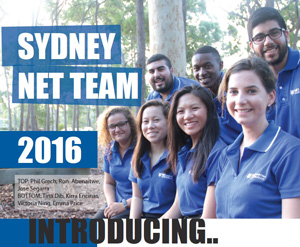 A team of seven enthusiastic missionary disciples will spend the next year getting to know the young people of the Sydney Archdiocese and bring the Good News with them.
The "New Netters" are part of a National Evangelisation Team, young Catholics who volunteer a year of their lives to share their experience of Jesus and serve the Church.
Net Ministries was started in Australia in 1988 with just one team. That team travelled in a van around Australia running encounter days for schools. Since then NET has grown into a diverse ministry with 3 different types of teams, now reaching schools, parishes, deaneries, dioceses and universities. Less time on the road and more time on ministry!
Teachers or priests can book the NET team for their school or parish pr youth group.
Here is feedback from a teacher who has booked the NET team for her students:
"Faith is caught, not taught! or so the saying goes. I keep booking NET Ministries because the young volunteers provide a powerful living witness to the Catholic faith- and their presence has an impact across our whole school community - students, staff and the families who host team members. My school has been challenged to become a centre of the New Evangelisation. I've found NET Ministries to be an invaluable resource in reaching for that goal," she said Natalie Ambrose NET Coordinator & Special Projects Officer has asked for continued prayers for the 2016 NET team: "Please pray for them on their mission this year, pray for the transformation of young lives across the diocese. Pray that the NET team's 2016 year is fruitful and many young people encounter Christ through them."
The NET team will be running a range of retreats and events on a wide range of topics. This will include special days for schools and parish groups, overnight retreats, parish-based ministry, university ministry as well as providing a general missionary presence in the Archdiocese.
If you would like to book the NET team for your school or parish contact
Natalie Ambrose
NET Coordinator & Special Projects Officer 02 9764 4357
natalie@catholicyouthservices.org
More information http://www.netministries.com.au/current-teams/