The Xt3 Advent and Lent Calendar - Tools of the New Evangelisation
Catholic Communications, Sydney Archdiocese,
8 Jan 2016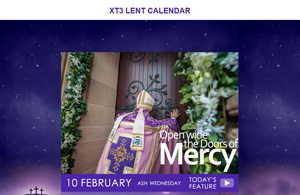 Over 5,000 people during Advent last year chose to spiritually prepare for Christmas using their mobile phones and other electronic devices. Through the Xt3.com Advent Calendar App, conveniently offering a daily meditation accessible anywhere, thousands of people were led to contemplate the true star of the Christmas season, Jesus.
Responding to the mandate to evangelise in the digital space, Xt3.com has developed and made available and engaging Advent Calendar App for the 6th year in a row. These easily accessible applications are tools of the New Evangelisation literally in the pockets of people throughout Australia and around the world.
Each day users of the Advent App opened a new calendar door, containing the daily mass readings, and a reflection in the form of an inspiring video, podcast, or an interesting article about the Catholic faith.
This year the Advent calendar App had 4,693 downloads on IOS (Smartphone) devices, 926 downloads on Android devices, and in addition 2107 liked the Advent calendar on Facebook.
The App was created by Xt3.com, a youth evangelisation website and a project of the Archdiocese of Sydney launched at World Youth Day 08. The Xt3 team works to share the faith in the digital world on spaces like YouTube, Facebook, iTunes and through Apps like the Lent and Advent calendar.

Xt3 stands for Christ in the Third Millennium.
Pope John Paul II especially asked young people to witness to Christ in their own time, through their own means and culture. "You young people have in a special way the task of witnessing today to the faith; the commitment to bring the Gospel of Christ - the Way, the Truth and the Life - into the third Christian Millennium, to build a new civilization - a civilization of love, of justice and of peace."
The Xt3 team is now working on the 2016 Lent calendar App which will be available for download on the 10th of February, Ash Wednesday (the first day of Lent).
2016 has been declared by Pope Francis as "The Year of Mercy" therefore the theme of the 2016 Lent calendar is "Open wide the doors of Mercy."
If you would like to receive Xt3-Mail a weekly newsletter with updates regarding the release of the Lent calendar App, visit: www.xt3.com and click register.
Last year's Advent and Lent calendars can be viewed on the following pages:
www.xt3.com/advent
www.Xt3.com/lent