Avalanche of Faithful Gather at the Altar of Ice
Catholic Communications, Sydney Archdiocese,
29 Jan 2016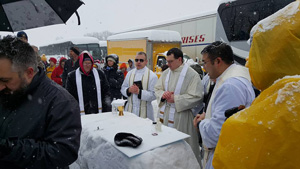 A record-breaking blizzard in the United States last week did not discourage participants in the annual March for Life from getting to Mass... in the most unusual of circumstances.
Despite the treacherous conditions, thousands had travelled to the march, which is held each year on the day abortion became legal in the United States.

They were scheduled to return home before the blizzard hit, but an accident on the Pennsylvania Turnpike left many of the buses stranded for 22 hours.
Bill Dill, a creative youth minister from the Archdiocese of St. Paul and Minneapolis, came up with the idea to build a "snow altar" and to ask the Priest chaplain, Father Patrick Behm, to celebrate. Pilgrims joined together using the bend signs they had left over from the March for Life to construct the altar.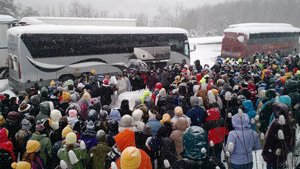 In an interview with website ChurchPOP, Father Behm said that pilgrims joined together to build the altar, and the Mass was attended by other stranded pilgrims, from the Dioceses of Iowa, Nebraska, Minnesota, Missouri, North Dakota, South Dakota, Wisconsin, Ohio, and Pennsylvania.
About 500 attended in total.
In what is being dubbed a "multiplication miracle," the group only had 6 hosts at the beginning, but other Priests were able to contribute what they had in their Mass kits, enabling all of those attending to receive the Eucharist.
Photographs and video footage of the Mass have been shared widely.
Video of Mass: https://youtu.be/CwrlUfPKZy0