Spotlight on Boston Child Sexual Abuse
Catholic Communications, Sydney Archdiocese,
29 Jan 2016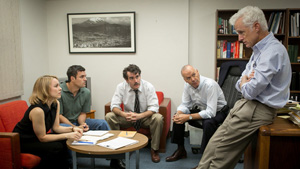 The film
Spotlight
has just been released in Australia. It chronicles the investigation by Boston Globe reporters into the systemic sexual abuse of children within the Roman Catholic Church in Boston. The film is powerful despite no big reveal moment. The methodical fact-gathering by the investigative team is gripping enough. This has been described by some reviewers as "good old fashioned journalism". Perhaps something missing today when information can be easily found on a computer screen and cut and pasted into new copy without primary source checking.
Spotlight is the name of the newspaper's team and the 2002 campaign to investigate and break open the church's cover-up of child abuse by Catholic priests.
It was a carefully orchestrated silence by some and unchallenged by others who were "just doing their job".
The film shows the very "Catholic" city of Boston where everyone has some connection to the Catholic Church.
Then a new editor is appointed, an outsider who suggests past handling of abuse cases has been left wanting. He wants the Spotlight team to go to work and they do, rather reluctantly.
But they are good "old fashioned journalists" and the information comes, with the timely help of sources and contacts.
Interestingly the editor insists they go after the system, not the man, that will come. And it did, interestingly revealing the paper's own former shortcomings.
When the story went to print after the five month investigation it documented a pattern of moving paedophile priests around, rather than stopping them, let alone reporting them. And it revealed a trail of victims.
The Globe wrote 600 stories on priest sexual abuse in 2002 and won the Pulitzer Prize for revealing the cover-up.
In the Boston archdiocese more than 250 priests and brothers have been publicly accused of abusing minors. The Boston Archbishop, Cardinal Bernard Law resigned, to be replaced by Sean O'Malley.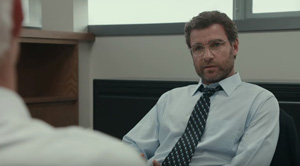 Cardinal O'Malley has seen Spotlight which he says depicts a very painful time in the history of the Catholic Church, particularly Boston.
He said he is committed to zero tolerance concerning the abuse of minors.
Of course Boston was not the only place of silence and deception, tolerance and ignorance, power and sex and crime. The spotlight has also been fixed on every diocese around the world.
People are listening to victims of child sex abuse. There is change with conviction and charges with convictions.
Some may be tempted to see the Spotlight journalists as heroes. They are not. They were doing their job, when others were not doing theirs. They were tenacious, methodical.
The camera work in Spotlight is competent yet clever, excelling in understatement and devoid of cliché flashbacks to darkened churches and sacristies or re-enactments. That would not do justice to the integrity and bravery of the victims who spoke to the reporters.
Spotlight is uncomfortable but deserving of its universal plaudits.
A group of people from the Archdiocese of Sydney reviewed the film this week. Some comments are included here along with links to full reviews.
Chris Meney, Chancellor Catholic Archdiocese of Sydney:
"When vulnerable young children are exploited and abused it always shocks us. When as was the case in Boston in the 1990's, significant numbers of clergy are responsible for such significant harm to children and the Church fails to respond adequately it can disturb us even further. As a father of several children it also reminds me of my responsibility to always do what is necessary to protect children. Substantial steps have been taken here in the Archdiocese in that regard in recent decades and that is continuing. Much has also been done and more will be undertaken to support and assist victims. All of us must assume our collective responsibility to ensure children are safe wherever they may be - churches, schools and families."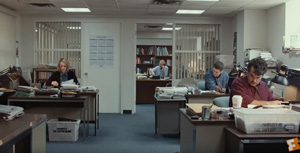 Monica Doumit, Co-ordinator Catholic Talk:
"For this type of evil to perpetuate, a big conspiracy wasn't required. All that needed to happen were people being average in a time when they needed to be extraordinary.
That's what's so confronting about this movie.
It's not that we are shocked by the evil of others so much because the details of the specific crimes and the perpetrators were not included in the film.
It's that we are shocked with the realisation that the ordinary people were involved, and didn't even realise it.
But there's also hope. The film also shows us journalists, lawyers and others who chose not to be ordinary. Who didn't "just do their job" but did it in a way which showed an extraordinary commitment to truth. We can all be like that. " Full review http://www.catholictalk.com.au/walking-the-talk/blog/item/693-spotlight-movie-review
Laura Bradley, Administrator social website xt3.com:
"The film shows the devastating wound from the scandal not only for the victims but the journalists, and how it impacts their ability to worship and pray.
At the same time the movie was inspiring, you are left with hope that the story has finally been told that this will bring faster change, better systems, and accountability.
Yes it is challenging to see on the big screen, the Church I love, that I work for, that I believe in, that has guided me in life provided for me spiritually and intellectually, the many wonderful priests who serve our communities - to see the Church raw and ugly like that stuffing up in such a big way and to have that shown to everyone in such a public space as the cinema is difficult but we must listen, watch and reflect. " Full review: http://www.sydneycatholic.org/pdf/Spotlight%20Comments%20-%20Laura%20Bradley%20(2).pdf
Sister Lydia Allen, RSM, Ph.D., clinical psychologist Good Shepherd Seminary, Sydney and consultant at the Congregation for Catholic Education at the Vatican in Rome, Italy:
"Prior to and at the time of the Boston abuse crisis, psychological assessment and formation of candidates to the priesthood were minimal, in comparison to today's standards. Likewise, most psychologists and psychiatrists falsely believed that paedophilia was curable, since professionals did not yet have deeper understanding of the multiple psychological, emotional and spiritual dynamics which play a role in determining how "treatable" a child sexual abuser may be. Thus, unfortunately and in relative ignorance, treatment centres often declared child sexual abusers "cured" after treatment and recommended reinstatement to pastoral activity to Church authorities. This is no excuse, but an explanation, as to why some of the abuse was allowed to continue. One may surely wonder why no-one saw that something wasn't working. " Full review: http://www.sydneycatholic.org/pdf/Spotlight%20review%201.pdf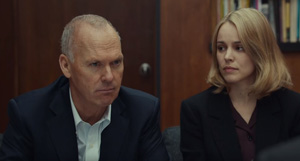 Fr Michael de Stoop, Parish Priest, Our Lady of the Rosary, Fairfield:
"For people uncertain as to how we should approach this film, I think anyone who is curious as to how we arrived at this point would do well to see it. I state this because before reconciliation with victims of sexual abuse can take place, opportunities for lament needs to be given. For without it, any efforts to reconcile hurt and restore justice feels artificial, contrived, even forced. Spotlight is a must see in this sense, as it led me to feel much shame and confusion. To begin with, I felt surprised by the findings of the investigative journalists on account of the stark number of priests they suspected had abused children. After their findings were substantiated, I felt shocked. Then, I felt angry and upset by the extensive cover ups, and I shed tears of exasperation as I considered how atrociously the many victims had been treated." Full Review: http://www.sydneycatholic.org/pdf/Spotlight%20Review%203.pdf