Christmas Lights Go On at St Mary's Cathedral
Catholic Communications, Sydney Archdiocese,
8 Dec 2016
The iconic facade of St Mary's Cathedral was the centrepiece of a stunning animated digital light and sound display last night.
The Lights of Christmas presented by Payce, was launched by the Archbishop of Sydney, the Most Rev Anthony Fisher OP and can be seen every night up to and including Christmas Day night.
Now in its seventh year, the event has become a tradition in Sydney, capturing the imaginations of audiences as the Cathedral becomes the backdrop for a public celebration of Christmas using interactive storytelling and an amazing combination of creativity and technology.
This year the theme is Joy To The World. One segment, especially for children, is an animation of the classic Christmas tale The Nutcracker Suite.
However the final and most stunning sequence continues the tradition of featuring beautiful images of the Madonna and Child by some of the great masters.
This year the Archbishop of Sydney, the Most Rev Anthony Fisher OP has chosen some of his favourite images of Our Lady and the baby Jesus to feature in the display.
"I am delighted we are once more featuring the Lights of Christmas on our beautiful Cathedral with enchanting animations and some of my favourite works of art of our Blessed Mother and baby Jesus. This is a wonderful Sydney tradition to which everyone is welcome," Archbishop Fisher said.
Last year's display attracted crowds of over 300,000 people. Last night the opening, which also featured carols by Artes Christi and Sydney performer Pippa Grandison, was streamed live and can be seen at www.xt3.com/live.
"PAYCE is delighted to be associated with an event for families and friends that embraces the same spirit of community which PAYCE is committed to delivering through its own projects," said Dominic Sullivan, Director of PAYCE Consolidated Limited, Presenting Partner of the Lights of Christmas.
The Australian Catholic University is once more Principal Partner for the event.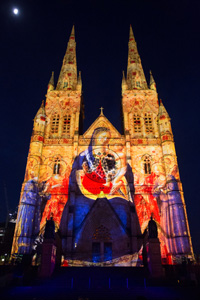 "Christmas is the season of lights. In a year of great challenges both in Australia and around our world, Christmas is also a time of reflection and celebration. This gives us the opportunity to celebrate the light of the new born Christ with our city, our Church, our communities and our world," said Professor Greg Craven, Vice-Chancellor and President of ACU.
Creator of Lights of Christmas, Anthony Bastic of AGB Events said last night this is one of his company's favourite events for Sydney.
"We really are very proud of this long-running, open and free event for everyone to come and enjoy," he said.
"There is nothing really at all like this that runs every night from now right up to Christmas Day night when we get some of the biggest crowds.
"I think it is a wonderful time for people to reflect on the true meaning of Christmas - and to enjoy however that may be."
Lights of Christmas runs from 8-25 December 2016. With different choirs performing every night prior to the Lights going on at 8.30pm, organisers suggest families, friends and visitors pack a blanket and camera and spend some time taking in the Lights.
To watch the turning on of the Lights of Christmas www.xt3.com/live.
For more information www.lightsofchristmas.com.au.