Message of Patience, Courage and Hope for Archbishop
Catholic Communications, Sydney Archdiocese,
22 Jan 2016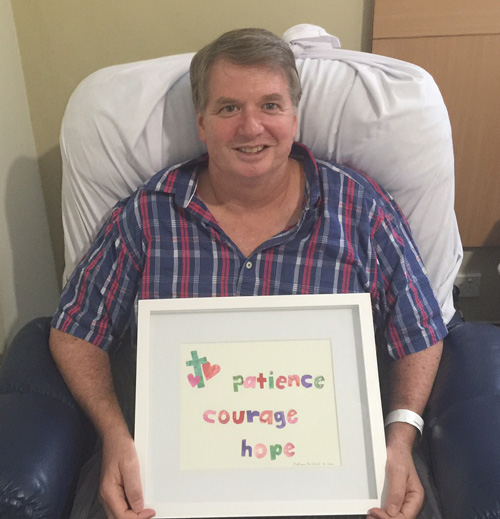 The Archbishop of Sydney, Most Rev Anthony Fisher OP has moved to a specialist rehabilitation facility to continue his recovery from Guillain Barre Syndrome.
The Archbishop was struck down with the immune-related condition just prior to Christmas and until recently was in St Vincent's Hospital.
Sudden and unexpected, the condition includes varying degrees of muscle weakness and temporary paralysis.
However day-by-day improvement allowed Archbishop Fisher to be transferred to the rehabilitation facility where he spends most of the day exercising and working with physiotherapists to regain muscle strength.
He has sent messages of thanks to all those who have been praying for his recovery including this latest message below.
This picture was sent by the children and staff of the Platinum Pre-School run by a group of Catholic parents. As you will remember, I had asked the Archdiocese to pray for these three virtues for me as I enter my new phase of rehabilitation. I'm now well enough to have left St Vincent's Hospital and am in a rehabilitation facility where I spend much of my time in the gym! I am walking further and further each day and doing many other exercises for my lazy muscles. Keep up the prayers! God bless you all. Archbishop Anthony Fisher OP.