Chilling Out in Antarctica's Catholic Ice Chapel
Catholic Communications, Sydney Archdiocese,
22 Jan 2016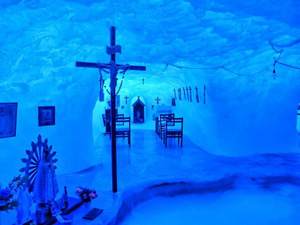 Imagine visiting a chapel carved out of pure ice which you can only reach through a narrow system of tunnels.
And when you get there kneeling on rock hard ice in freezing temperatures.
The southernmost chapel of any religion, is a Catholic chapel at the Argentinian Belgrano II Base around 1,000 kilometres from the south pole.
The first Belgrano base was built in the 1950's but had to be abandoned since the ice on which it was built wasn't stable enough. Finding good places for permanent bases is hard since 98% of Antarctica is covere4d in ice.
However the Argentinian government found about a hectare of ice-free land close by and Belgrano II Base was opened in 1979.
However in ice nearby people from the base dug out a system of tunnels and built the Catholic chapel.
While it is not as well known or as accessible as the popular and soon-to-be permanent Ice Hotel in northern Sweden, it continues to serve the needs of scientists working on the Belgrano II Base.