School Safe and Ready for Students' Return Despite Fire Damage
Catholic Communications, Sydney Archdiocese,
21 Jan 2016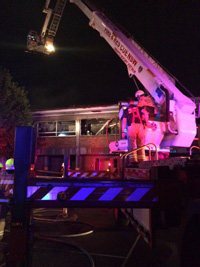 Students at St Brigid's Catholic Primary School, Marrickville will return to school next week, despite a fire breaking out in the school library just days before school is set to resume for 2016.
About 100 firefighters responded to the fire which broke out in the school library at about 10pm on Wednesday evening.
The fire spread rapidly, and Fire and Rescue NSW inner west duty commander Kernin Lambert told media that at one stage, the entire school was in danger of being lost because the fire had entered the roof of the building.
But the quick response from Fire and Rescue NSW, including firefighters entering roof, ensured that the blaze was contained within an hour and the damage limited to one half of the library, because the fire did not spread to other parts of the school, including the classrooms which surround the library.
Unfortunately, the communications room where the internet servers are kept was affected by the blaze.
The minimal damage means that the students are expected to return to school as scheduled, and will not be given a longer summer break (as some of them might have hoped!)
No one was injured in the fire, and its cause is not thought to be suspicious, although investigations will continue.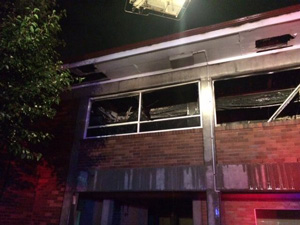 Parish Priest of St Brigid's, Father John Pearce CP stayed on site until late into the evening as the fire was brought under control.
In a letter to parents today, Principal Lyn Sanford said that building specialists were already onsite to ensure that the school will be completely safe and ready for the return of staff and students next week, and assured parents that there would be no impact on the quality of the teaching delivered to the students. She also thanked the fire crews, police and Priests who attended the site.
Fire and Rescue NSW published photos of the blaze on its Twitter account.