Catholic Mission's Focus on Timor Leste
Catholic Communications, Sydney Archdiocese,
21 Jan 2016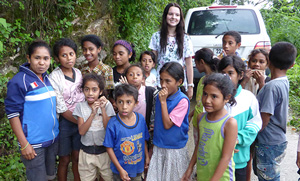 Catholic Mission this week launched its first campaign for 2016, a direct mail appeal with a focus on the troubled region of Timor-Leste.
With its theme drawn from Isaiah 6:8, 'Here am I; send me!', the campaign brings to light the efforts of promising young seminarians who are answering God's call to guide the people of Timor-Leste towards true independence.
Sadly, endemic domestic violence, unemployment and poverty are just some of the issues still troubling the people of Timor-Leste 17 years on from the historic referendum that effectively freed the country from a violent occupation.
During the week following the historic 1999 referendum which saw nearly 80 percent of voters elect to free the nation from 25 years of Indonesian occupation, the Timorese people suffered savage and horrendous violence, which left the nation in a state of severe physical and emotional tatters.

Although time has healed many of the physical wounds, a scar on the nation's soul still lingers. In the present day, Timor-Leste struggles to overcome a combination of potentially destructive social issues, ranging from widespread unemployment to poverty and endemic domestic violence Catholic Mission Deputy National Director Peter Gates says an important mission lies ahead for seminarians, who are highly regarded by the 97% Catholic population within one of Australia's closest neighbours. "In this Year of Mercy, we are asking faithful Australians to support these inspiring young seminarians in Timor-Leste and around the world as they help to bring God's loving mercy to communities in need."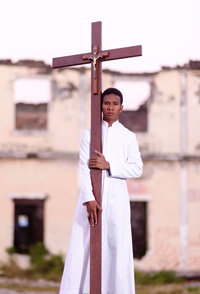 The face of Catholic Mission's 2016 appeal is 24-year-old Zaccarias Exposito, a young seminarian entering his second year of study at Saint Peter and St Paul Major Seminary in the capital Dili. Zaccarias believes he is called to help solve the issues faced by the Timor-Leste people through God's loving mercy. "To bring people close to us and close to God is mission," he says. "Through our own life's example, we can contribute to humanity here."
At just seven years of age, Zaccarias remained in his hometown with his father and younger sisters as the 25- year occupation ended with a crescendo of the very violence that characterised it. As retreating Indonesian forces burnt houses around him, the fear and the courage to stay behind changed Zaccarias' life forever. He promised himself then to always remain close to the people of Timor-Leste. Now, although he has seen great progress since that time, he is keen to address the issues in society that remain as a legacy of the brutality once faced by the people.
Zaccarias and others like him can be assisted through support of Catholic Mission's annual Seminarian Appeal, which raises vital funds for the training of seminarians and novices in developing countries. These young men and women will one day become leaders of the Church, empowering their local communities and helping them to discover the love and mercy of God.
For more information on, or to make a donation to the 2016 Seminarian Appeal, contact Catholic Mission on 1800 257 296 or visit catholicmission.org.au.