Managing Debt Essential for Future Generations - Cardinal George Pell
Catholic Communications, Sydney Archdiocese,
18 Jan 2016
Many countries might be living beyond their means and must look to managing and containing immense national debts, including Australia, Cardinal George Pell, the Vatican's Prefect for the Secretariat for the Economy has told an international conference in Rome.
While market economies have brought unprecedented prosperity and represent an extraordinary human achievement some communities have become too used to success and take it for granted.
Cardinal Pell also highlighted the need to encourage young men and women to be effective entrepreneurs who will contribute to sustainable growth, especially through job creation, to deliver healthy societies.
The Cardinal gave the keynote address at the Global Foundation's Rome Roundtable which was attended by corporate leaders, financial institutions heads, religious leaders and politicians.
Other attendees included the heads of the Consumer Goods Forum, representing 400 of the world's largest supermarket and retail companies, who announced they would eradicate the use of forced labour or slavery-proof their supply chains.
The theme of the conference was "Rejecting the globalisation of indifference - mobilising for a more inclusive and sustainable global economy".
While Cardinal Pell recognised the efforts of the OECD and other regulatory bodies he said "if we are to truly mobilise the global economy, in a sustainable fashion, it will require business, not regulators, to take a leading role" - while recognising implicit ethical underpinnings of such action.
Cardinal Pell also spoke of the need to make sacrifices for future generations.
"Naturally enough political constituencies do not like sacrifices and this imposes severe restrictions on democratic governments, especially when they have to address the irresponsibilities of their predecessors, " he said.
"The willingness to make sacrifices for future generations is even lower, although rarely articulated, and helps to explain the largely unfunded liabilities of many or most government pension funds.
"Migration patterns demonstrate that migrants and refugees realise that democratic societies with free economies offer better prospects for them and their children. But the immense differences in incomes are daunting and discouraging.
"It is sobering to realise that someone around the U.S. poverty level of $ 11,000 a year is in the top 15 per cent of world income distribution (TLS 20.11.15 p3) and that the bottom 20 per cent of the world's population earns less than $ 550 a year (ibid), despite the fact that World Bank recently stated that the percentage of people across the globe now living in extreme poverty has fallen below 10% for the first time.
"Even in the Western world we find new and deepening inequalities which are dangerous for the community trust and acceptance which business needs to function."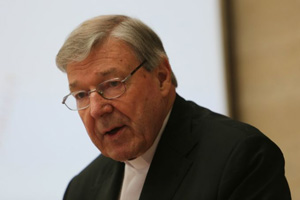 Following on from the Consumer Goods Forum to eradicate forced labour from their supply chains Cardinal Pell also committed the Vatican to slavery-proofing its own supply chains and said he hoped other retail companies and organisations will follow suit.
Cardinal Pell also commented on his own work at the Vatican.
"We are striving for good and better governance here in the Vatican. It is of paramount importance to the credibility of the Holy See, that we apply world's best practice in the management of our own financial and economic affairs, with transparency, international cooperation and commitment to continuous improvement. With our Council for the Economy, we have come quite a long way in a short space of time, but we still have a way to go."
He also had a strong message for the economy of the future.
"On the empowerment of women, the facts are incontrovertible - economic growth will rise through the application of consistent practices in enabling and encouraging the full potential for women in the economy.
"The education of young women is also vital for another reason, for their roles as wives and mothers of tomorrow's generations and as primary educators. They, and perhaps even more importantly, young men need to be reminded of the vital role of families in building healthy societies, of the beauty and consolation of lasting marriages especially in our Western communities ravaged by family collapse. When human capital declines, social fragmentation with its economic consequences can only increase.
"The future belongs to those with children. And a final teaser: Is there a link between economic stagnation and a declining population, e.g. where there are too few taxpayers to finance
welfare and pensions?"
Cardinal Pell's complete keynote address can be read here
http://media.wix.com/ugd/4e807f_efdf0281e0b04d17abd5974c3c618625.pdf