"Sole Searching" Taiwanese Style
Catholic Communications, Sydney Archdiocese,
14 Jan 2016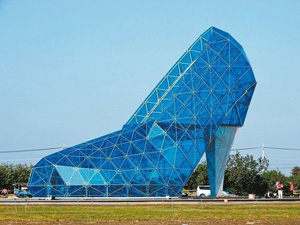 Many faithful have wondered how they can encourage more people to go to church.
Perhaps they have been soul-searching that dilemma for years.
But one Taiwanese religious group believe they have hit on a startling and sparkling answer.
A giant blue-tinted glass shoe they hope will specifically attract female worshippers.
Standing 17 metres high and 11 metres wide in a park on the island's east coast, the shoe is made up of 320 pieces of glass.
Although it has so far taken about two months to build it will not be opened until 8 February ,the Lunar New Year. It is also not sure what denomination has erected the structure which is also being reported in Taiwan to include "100 female oriented features" such as biscuits and cake!
While Cinderella may be mightily impressed with this glass slipper and it could be the answer to a little girl's fairytale wedding, apparently some locals have put their foot down suggesting it is a "little over the top and somewhat sexist".
According to the building's administrative office, before a Taiwanese wedding the bride wears a healed shoe to tread on and smash tiles before throwing the shattered pieces away. This symbolises the end to one chapter and the beginning of married life.
So what about Australia? An R.M. Williams boot for the blokes? May be not.