Bishop Umbers to bless restoration works of St Benedict's, Broadway
Catholic Communications, Sydney Archdiocese,
25 Nov 2016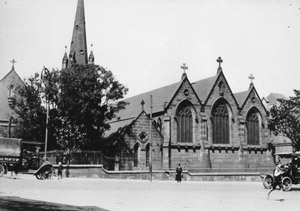 Bishop Richard Umbers, Auxiliary Bishop of Sydney, will celebrate the Mass and Blessing of the newly-restored St Benedict's Church, Broadway at 10.30am on Sunday 4 December 2016.
Parishioners and those who have had a connection with St Benedict's Parish and the schools that were once on its grounds are particularly welcome, as well as current and past staff and students from the University of Notre Dame Australia, on whose campus the Church is located.
St Benedict's is the third oldest Catholic Church in Sydney, after St Mary's Cathedral and St Patrick's Church Hill, but was the first amongst these to be consecrated, making it not only Sydney's - but Australia's - oldest consecrated Catholic Church and a historical icon in Sydney. It was designed by the famous British architecture, Augustus Pugin, more than 174 years ago for the first Catholic Archbishop of Sydney, Archbishop John Bede Polding.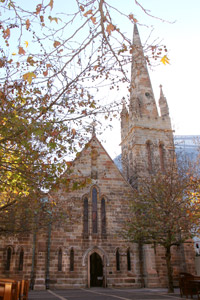 The location of St Benedict's was secured in late 1838. Its foundation stone was laid on 21 July 1845 and construction was completed in 1852.
The Church underwent a major restoration from July 2015 to August 2016. Now completed, the Church has been returned to its former glory and takes its place as one of the most magnificent Catholic churches in Australia.
Professor Hayden Ramsay, Senior Deputy Vice Chancellor Sydney Campus, said it was an honour and privilege for the students and staff of Notre Dame Sydney to have the nation's oldest consecrated Catholic Church as the centrepiece of our Broadway campus.
"St Benedict's is a constant reminder of the faith we share and is the spiritual centre of our Broadway Campus. I am proud to say that there is not likely to be any other Catholic Church in Sydney that has so many young people in attendance for daily Mass," Professor Ramsay said.
In recent years the exterior of St Benedict's had started to crumble and it had become dangerous for parishioners, students and visitors until a safety fence was erected. The University and the Parish acted quickly to engage Jasper Swann, Heritage and Stone Mason Consultant, who provided an initial report on the scale of the work needed.
According to Mr Swann, the stonework on St Benedict's, like all of Sydney's prominent 19th century sandstone buildings had suffered the effects of weathering and this, when left unchecked, accelerates decay. The spire and bell tower were identified as being in need of the most work.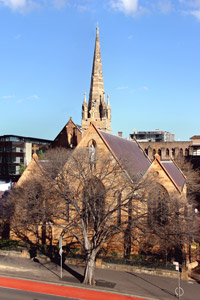 Expert stonemasons have worked meticulously on the restoration to preserve this beautiful piece of Australian history. Mr Swann's initial investigations also showed that two prominent architectural features of the original Pugin design on the bell tower had been shorn off. An upper protecting string course with ornately carved bosses at each corner, and a second protecting string course over the belfry windows had both been removed.
In addition to being a beautiful feature of the original design, they served an important purpose which was to shed water off the façade of the stonework during rain. These have now been carved and placed back on the bell tower, in which are housed four of the oldest bells on mainland Australia.
St Benedict's is also celebrating the 160th anniversary of its bells at a special Mass on Thursday 8 December 2016 at 7pm. Father Epeli Qimaqima, parish Priest of St Benedict's, will celebrate the Mass. There will be a full choir and much belling ringing both before and after Mass.
St Benedict's was the first Catholic Parish in Australia to have change-ringing bells and four of the original bells still hang in the tower, making them the oldest bells on mainland Australia. In six bronze bells were delivered from George Mear's and Co Foundry in Whitechapel, East London to Sydney in the 1850s. Now known as the Whitechapel Bell Foundry Limited, it is Britain's oldest existing manufacturing company and is best known for casting Big Ben and the original US Liberty Bell.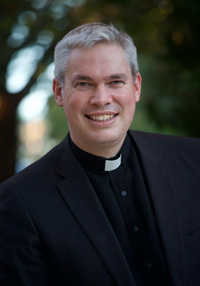 The preservation of St Benedict's is ongoing. "Please consider making a donation to support St Benedict's so that it will be a central part of the educational experience at Notre Dame for generations to come," Professor Ramsay said.
Anyone wishing to assist in this important cause can support this restoration and future work by visiting
http://www.nd.edu.au/savestbens
.
Mass and Blessing of the newly-restored St Benedict's Church, Broadway
Sunday, 4 December at 10.30am
Celebrated by Bishop Richard Umbers
Mass on the occasion of the 160th anniversary of the Church bells and Feast of the Immaculate Conception
Thursday, 8 December at 7pm
Celebrated by Father Epeli Qimaqima