Youth Gather for Prayer Vigil for Archbishop Anthony Fisher
Catholic Communications, Sydney Archdiocese,
11 Jan 2016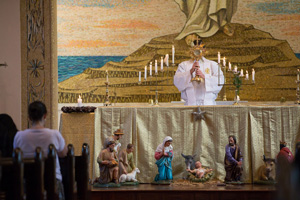 Families and young people from around Sydney gathered on Saturday evening at Sacred Heart Catholic Parish, Darlinghurst for an evening of prayer for the recovery of Archbishop Anthony Fisher following his diagnosis with Guillain-Barré syndrome.
This evening was organised by Catholic Youth Services, Catholic University Chaplaincies, the University of Notre Dame Australia and the Australian Catholic University (ACU).
The Church was filled for the 5pm Vigil Mass, celebrated by Father Matthew Solomon and concelebrated by Fr Anthony Casamento, Director of Identity and Mission at ACU, Father Peter Kwak, Chaplain to the University of New South Wales and Father Gary Perritt cp, Chaplain to the Catholic Education Office Sydney.
Father Matthew began his homily by posing the question: "What do you do when there is nothing you can do?" and asked those gathered to consider times when they could not see a resolution to an illness, a career struggle, a financial pressure or relationship stress which left them wondering whether God is absent, apathetic or angry. He told the congregation that these times are an invitation to faith.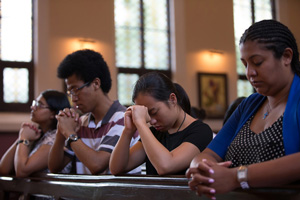 This invitation was reflected in those gathered at the Vigil and in the many others from Sydney and around the world who have been fervently praying for Archbishop Fisher since he became ill.
The ACU choir led the music during the Mass and the exposition of the Blessed Sacrament which began at the conclusion of Mass and continued until 7.30pm.
Those attending the Vigil were told that Archbishop Fisher was hoping to catch a glimpse of the crowd gathered from his hospital room, and so at the conclusion of prayers, they walked to nearby St Vincent's Hospital where Archbishop Fisher is being treated.
After a few moments of anticipation, Archbishop Fisher appeared at a window, smiling at the crowd gathered below. The Archbishop was also able to greet those gathered personally, with the aid of a mobile phone and a loud speaker. He thanked everyone for their presence and their prayers, saying that his spirits were lifted by seeing the numbers in attendance. He spoke of his certainty that the prayers being offered for him would aid his recovery, and assured them that he was also praying for the people of Sydney.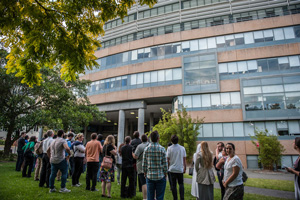 Archbishop Fisher also sent a message of gratitude following the event. He said:
My affectionate greeting to the young people gathered tonight (Saturday) at Sacred Heart Darlinghurst to pray for me and the other sick people here at St Vincents. I am enormously grateful to you all for your expressions of concern and promises of prayers.
My experience of temporary paralysis and pain has given me a deeper insight into what some people suffer every day and over the longterm. Those of us who are young and healthy must have a special concern for those who are frail or sick or elderly. In this Year of Mercy we remember that visiting and praying for the sick are among the corporal and spiritual works of mercy to which Pope Francis is calling us. 'When I was sick you visited me' Christ says to His saints.
Please be assured of my love and prayers for you all, for your health and your happiness. I look forward to seeing you all soon.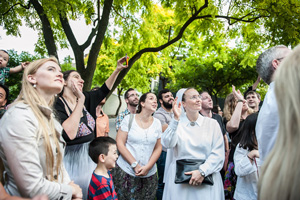 Encouraged by getting to see their Archbishop and hearing him address them personally, many of the young people in attendance sought to continue the evening, and so nearby Darlinghurst restaurants were filled with joyous Sydney Catholic youth.
Archbishop Fisher continues to respond well to the treatment being provided, and will soon begin a time of rehabilitation and physiotherapy. He has asked for continued prayers for him during this time.
To leave a message of support for Archbishop Fisher go to http://www.sydneycatholic.org/people/archbishop/support.asp.