Caritas Australia Responds to Food Crisis in Zimbabwe
Catholic Communications, Sydney Archdiocese,
6 Oct 2016

Caritas Australia, part of one of the largest humanitarian networks in the world, is responding to Zimbabwe's food crisis, with an emergency relief program. The crisis has left up to 4.5 million people, about a third of the population, without enough to eat.
The program is being funded with development partner, Caritas Gweru.
The current food crisis is the result of the worst El Niño-induced drought in a quarter of a century. For many who rely on rain-fed maize production, the drought has been particularly devastating and rainfall is not expected in the country in the near future.
Schools are reporting a number of students dropping out in order to assist their families in finding food, which is, Caritas reports, the world's second poorest country when measured in GDP per capita.
Caritas Australia's Africa Program Coordinator, Sister Ivy Khoury, spoke of the severity of the crisis, as well as the strength of Zimbabwe's people.
"For many years people have suffered. If it hasn't been from drought, it has been from the outbreak of cholera, due to a lack of safe water and sanitation infrastructure," Sister Ivy said.
"Even though people are suffering, they live with hope and believe that their lives will improve with the assistance of Caritas Australia."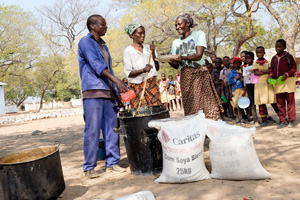 Caritas Australia's emergency relief program aims to ensure food security for the most vulnerable in Zimbabwe, by providing food distribution, school meals and financial support to almost 100 households.
Sister Ivy said that the school feeding program provides hundreds of children with a nutritious daily meal, while financial support enables participants to purchase food for their families and provides seeds to plant in their gardens.
A local school principal commented: "Caritas helps us provide 150 kg per day of corn-soya blend. The children like the taste and it's very healthy for them. They ask for it when then come to school. The cooks are all volunteers drawn from the local villages."
Caritas Australia is also supporting three development programmes in Zimbabwe, with the dioceses of Gweru, Hwange and Gokwe.
Such programs include improving access to safe and nutritious food, access to water and sanitation, and training community members to begin income generating activities.
The recent construction of a water canal in Hwange, in western Zimbabwe, a joint venture between locals and Caritas staff, empowered community members to improve their lives to become self-sufficient.
"It's exciting to see people, that when people who didn't have water, now have water," Sister Ivy said. "When you see the strength and enthusiasm of the people, that's what gives you hope for the future."
For more about the work of Caritas in Zimbabwe, visit http://www.caritas.org.au/learn/countries/zimbabwe.