Boat People Should not Be Feared or Punished but Welcomed and Embraced - Australian Bishops Social Justice Statement
Catholic Communications, Sydney Archdiocese,
9 Sep 2015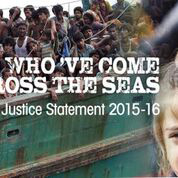 The global movement of people cannot be stopped or managed by any single country, including Australia. But for far too long Australia's political debate has focussed not on the millions of people displaced around the world but almost entirely on a small segment of its immigration intake, the refugee and humanitarian program which offers places to just 13,750 from the more than 59.5 million displaced people each year.
"It seems Australia is losing sight of the human dignity of the person seeking asylum and our obligation to assist and protect. A myopic focus on the interception of boats and deterrence of asylum seekers has closed the nation's mind to the true picture of the asylum seekers' journey," Australia's Catholic Bishops write in their annual Social Justice Statement which will be officially launched today at Mary MacKillop Place by Phil Glendenning, President of the Refugee Council of Australia and Director of the Edmund Rice Centre.
Dr Mary Crock, Professor of Law at the University of Sydney and expert in migrant, citizenship and refugee law will also speak at the ceremony which is expected to be attended by more than 130 including John Ferguson, CEO of the Australian Catholic Social Justice Council and Sister Helen Kearins, msc, Project Office with the Council.
Entitled For Those Who've Come Across the Seas: Justice for Refugees and Asylum Seekers, the Catholic Bishops' Social Justice Statement 2015-2016 pulls no punches in its examination of the nation's increasing xenophobia, with the majority of Australians seeming to regard asylum seekers not only as a problem and a burden on the tax payer but associating them with so-called "illegal" arrivals and the evils of people smuggling.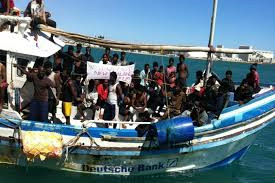 "The panic and mistrust that is stirred up by this debate are out of all proportion to the true scale of the issue in Australia," the Bishops write and accuse both sides of politics of exaggerating the challenge that asylum seekers, and in particular boat people, present to Australia.
The detailed statement also strongly criticises the ever-harsher policies devised by current and former governments to deter those fleeing war and violence in a desperate search for safety.
Instead of treating these victims of conflict and persecution with compassion, kindness and generosity, Australia incarcerates them in harsh untenable conditions in off-shore detention centres.
"Australia rose to the challenge in the past with the generous embrace of migrants and refugees. It proved itself especially courageous during the Indochinese exodus and accepted an unprecedented number of Asian refugees," Bishop Vincent Long Van Nguyen, Chairman of the Australian Catholic Social Justice Council writes in an introductory letter to the Bishops' Social Justice Statement for 2015-2016.
Forced to flee his homeland as a teenager after the Communist takeover of Vietnam, Bishop Vincent arrived in Australia as one of the many thousands of boat people who arrived on our shores in the 1980s in search of safety and a new life.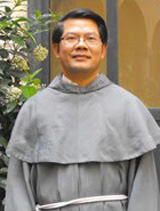 Now Auxiliary Bishop for the Archdiocese of Melbourne, Bishop Vincent has not forgotten the warmth and way he was welcomed by Australians after his and the others who made the long, dangerous journey by sea in a flimsy, barely sea-worthy boat.
"We Australians have rightly felt appalled at the dangers that refugees experience on their journeys, but we seem to have come to believe that harshness and rejection will be enough to deter desperate people from their flight to safety," he writes. "Yet the presence of boat people proves that Australia cannot insulate itself from the worldwide movement of people. Every boat we intercept, every child we detain, is a reminder that we can be part of the problem or part of the solution. While we (Australia) try to bar our doors millions are fleeing and dying - Rohingyas, Syrians, Hazaras and Somali to name only a few."
This year's Social Justice Statement which is being released ahead of Social Justice Sunday on 27 September is particularly timely as the hundreds of thousands of desperate refugees flee war-torn Syria and the terrifying advance of Islamic State's brutal terrorist militias are pouring into Europe in search of a safe haven for themselves and their children.
"Like a growing number of Australians and people worldwide, we are witnessing the tragedy of the Syrian exodus and seeing innocent men and women and children dying on boats as they attempt to escape the horrors of IS," says John Fergusson, CEO of the Australian Catholic Social Justice Council. "Like so many we are also concerned about the policies of successive governments in Australia intercepting and pushing back boats, detaining asylum seekers off shore and restricting protection on our own shores."
Mr Fergusson stresses that the displacement of people is a global problem, and that whether Australia likes it or not, we are all ultimately in this together.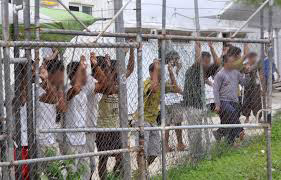 "Currently there are more than 59.5 million men, women and children worldwide who have been displaced because of persecution, conflict or violence. Each day more than 42,000 people flee their homes in search of safety and protection," he says pointing out that what we are now seeing is the largest displacement of people since World War II.
Commending the Archbishop of Sydney, the Most Rev Anthony Fisher OP's statement on Monday evening which called on the Australian Government to substantially increase its humanitarian intake of refugees, Mr Fergusson said it was imperative we do more.
"Australia like every other nation has the right to regulate migration flows and assess the status of people seeking protection within its borders through a rigorous processing system," the Social Justice Statement 2015-2016 acknowledges. "However a system that restricts both an individual's right to seek asylum and the state's obligation to provide protection is inherently flawed."
The Bishops strongly believe that Australia must recognise our regional responsibility and also acknowledge that the dangers people face in terms of conflict and persecution are so great that deterrence alone is not an adequate response. Or a humane one.
"There must be an alternative and we call on our political leadership to ensure public debate is characterised by respect for the human dignity of people seeking asylum," the Bishops write.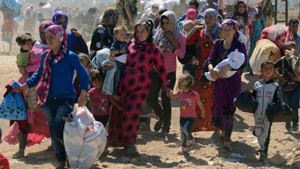 The Statement calls for asylum seekers' claims to be processed onshore, for periods in detention limited to the shortest period possible to carry out security, health and identity checks, and insist that no distinction should be made between asylum seekers who arrive by boat and those who arrive by air.
The Statement also calls for no child to be detained solely on the basis of their immigration status pointing out that all children are entitled to a healthy family life with the support and nurture of their parents.
"Australia should be showing leadership in the region, not just in combating people smuggling but in increasing the capacity for protection and resettlement places in South East Asia. Globally we should be making concrete efforts to engage with source countries to provide in-country support to people who are displaced," the Bishops write.
Australia's Catholic Bishops' 2015-2016 Social Justice Statement: For Those Who've Come Across the Seas: Justice for Refugees and Asylum Seekers is an invaluable resource for schools, universities, parishes, Catholic organisations and for people from all walks of life. The 24-page Statement is available free and can be downloaded from midmorning today, 9 September at http://www.socialjustice.catholic.org.au/