Prayers for the Unborn & All Those Hurt by Abortion
Catholic Communications, Sydney Archdiocese,
9 Sep 2015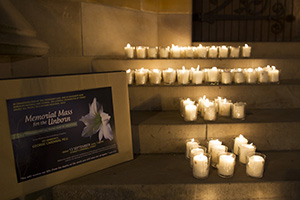 Eighty two candles symbolising the lives lost to abortion each and every day across NSW will be joined by one blue candle representing those lost to miscarriage at the Archdiocese of Sydney's annual Memorial Mass for the Unborn to be held at St Mary's Cathedral on Friday, 11 September.
The Mass will be celebrated by the Archbishop of Sydney, the Most Rev Anthony Fisher OP and is the fourth annual Mass held by the Archdiocese to remember and pray for the unborn whose lives were taken before they had a chance to experience the great gift of life. The Mass will also pray for all those hurt by abortion.
Chris Meney, Chancellor of the Archdiocese and Director of the Archdiocese's Life, Marriage and Family Centre which hosts this important annual Mass, says there is still a great cloak of secrecy over abortion and a reluctance by people to address the issue and look seriously at how widespread abortion is in Australia, and how much harm it causes to women and children.
He also points out that fathers of aborted children also suffer deep hurt and sadness.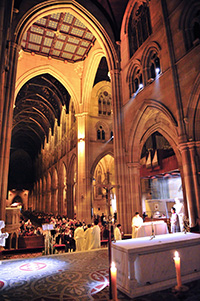 The Memorial Mass at St Mary's Cathedral is not about making a judgement on women, but is a poignant and powerful reminder of the "horrendous harm that comes when we can find no other way than to destroy a human life," he says.
Earlier this month, Pope Francis declared a Jubilee Year of Mercy beginning on 8 December, the Feast of the Immaculate Conception, and announced that during this Jubilee Year he would allow priests to formally absolve those who have had abortions and seek forgiveness.
Addressing the issue in a letter announcing the upcoming Jubilee Year of Mercy, the Holy Father called abortion a "tragedy," and placed the blame not so much on women but on "a widespread and insensitive mentality that has led to the loss of the proper personal and social sensitivity to welcome new life."
Some women who underwent an abortion had only a superficial awareness, not realising the extreme harm such an act entailed, he said. Others although experiencing pain and defeat, believe they have no other option.
Pope Francis said he was well aware of the pressure that may have led them to this tragic decision. "I know that it is an existential and moral ordeal. I have met so many women who bear in their heart the scar of this agonizing and painful decision."
All those who are struggling with the pain, regret and deep hurt of abortion are encouraged to attend the Memorial Mass for the Unborn at St Mary's Cathedral at 7 pm on Friday, 11 September.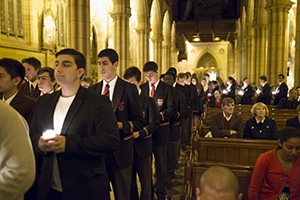 "For those seeking God's forgiveness and mercy after an abortion, this Mass is an opportunity for a journey of hope and healing to begin," Mr Meney says.
More than 500 are expected to attend the Mass. Community groups, students from Catholic schools, universities and men and women from parishes across Sydney together with members of pro-life and pregnancy support organisations will join together in a show of solidarity and support for the women, their husbands and all those who have been affected and hurt by abortion.
"The Mass is an opportunity to reach out to people who have been touched by abortion, to grieve with them and to pray in solidarity with them for their profound loss," Chris Meney says.
University student Claire O'Brien intends to be at the Mass to show her support for those damaged by abortion and to pray and remember the hundreds of thousands of unborn across Australia each year who have been denied a future and a chance at life.
She also attended last year's Memorial Mass for the Unborn and vividly recalls the sense of peace during the Mass.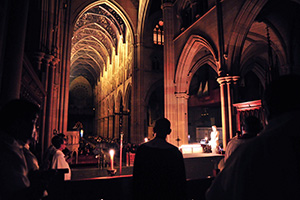 "It was as though our hearts were being filled with mercy and love, and were open to all those who sought understanding and healing," she says. "The Memorial Mass also helped me understand the importance of having a compassionate heart for all victims of abortion. While the untold victims of abortion give me great sorrow, the Mass brings me hope especially to see so many united in prayer together."
The Archdiocese of Sydney welcomes the presence of all those who wish to attend the Memorial Mass for the Unborn and requests their sensitivity around the difficult and often painful subject of abortion.
The Memorial Mass for the Unborn, celebrated by Archbishop Fisher will begin at 7pm at St Mary's Cathedral on Friday, 11 September.