Archbishop Calls for Increased Syrian Refugee Intake
Catholic Communications, Sydney Archdiocese,
8 Sep 2015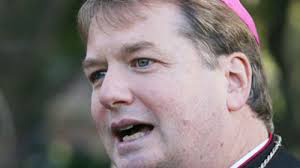 Echoing recent calls of Pope Francis to the Catholic community and to international leaders to respond generously and effectively to the developing refugee crisis in the Middle East, North Africa and Europe, the Catholic Archbishop of Sydney, Anthony Fisher, today called upon the Commonwealth Government to increase the number of Syrian Christian refugees being received into Australia.
"As a Christian leader I commend the Commonwealth Government on its announcement that it will increase the proportion of Australia's humanitarian intake from Syria in response to the current crisis. But I also ask that the overall refugee intake be very substantially increased and that particular preference be given to persecuted Christians from Syria and Iraq and other religious minorities who have nowhere else to go," Archbishop Fisher said. "We should also keep in mind the minorities within the Muslim community in these countries who are persecuted by Islamists and other Muslims".
"We cannot leave this to government alone," the Archbishop said. "Christians must remember our persecuted brethren and all those of any faith fleeing persecution, war and danger, in their prayers. On a practical level I commit the welfare agencies, parishes, religious communities and families of the Archdiocese of Sydney to responding generously to assisting any such refugees whom the Commonwealth allows to come to Sydney."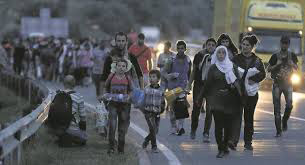 "I am seeking a meeting with Syrian Catholic community leaders and the leaders of Church welfare agencies and parishes to discuss what might be done locally to provide housing in families, parishes and convents, and to provide welfare assistance, healthcare, employment services and friendship to traumatized newcomers from the Middle East," the Archbishop promised. "We are keen to locate our efforts within those of other Christian leaders to see how we can aid those most in need."
Preaching at the Solemn Mass at St Mary's Cathedral on Sunday, the Archbishop pointed out that the developing refugee crisis in the Middle East and mass movement of people across Europe had been "sparked in large part by the persecution of Middle Eastern Christians - the worst persecution of Christians in all of history, worse even than that under the maddened Roman emperors. It's estimated that 100,000 Christians are now martyred every year, 11 killed for their faith every hour" and "many of these are killed by the evil organisation 'I.S.' and its affiliates in the Middle East," the Archbishop said. "No wonder people are fleeing."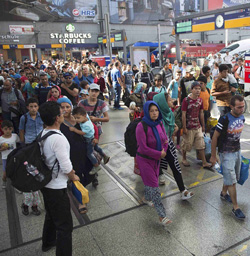 "What are we to do about it? Even with the Wisdom of Solomon we'd be hard-pressed to know what would actually help in this situation, by way of military, diplomatic or humanitarian intervention. What we can't do morally is look on paralysed or look away as little boys are drowned and frightened faithful struggle to scale razor wire fences. The sights of such distress should galvanise us into action. We must do what we can to help."
"Christ said that he would judge us on the basis not of our rhetoric but what we have done practically for 'the least of his brethren'. These included the hungry, imprisoned and the 'stranger' (Matthew ch 25), and especially Christians in danger. As we approach Social Justice Sunday, which this year has as its theme justice for refugees and asylum seekers, I call on all Catholics to respond generously, knowing that other Australians will join with us as they have so often done in the past," the Archbishop said.